Streams of soil-laden tipper trucks passing through Bradley Stoke and construction activity at Parkway North Roundabout at the northern end of the Stoke Gifford By-Pass are signs that work has now begun in earnest on a 327-home development site on the borders of Bradley Stoke and Stoke Gifford.
The site, which is being marketed under the name 'Mulgrove Farm Village', lies south of the Winterbourne Road (i.e. on the opposite side to the Winter Stream Farm pub restaurant) and north of the main railway line.
It forms part of the planned East of Harry Stoke New Neighbourhood where a total of 2,000 homes are to be built over the next seven or more years.
The current work is being carried out by Churngold on behalf of Wainhomes Severn Valley, who last year acquired part of the site from Crest Nicholson in a £38 million deal.
The remainder of the site, around the now demolished Mulgrove Farm buildings, is in the ownership of South Gloucestershire Council.
In November 2018, Crest Nicholson secured full permission for a site-wide earthworks strategy and the construction of 150 homes on its part of the site. Outline permission was also granted for 177 homes on the council-owned land, along with a primary school and nursery.
The council recently revealed that it is to explore the possibility of delivering the other 177 homes on the site via a joint venture with another developer.
As the land on the site consists of a domed-shaped hill, extensive earthworks are required to create a level plateau to enable development. These earthworks comprise levelling the site at its highest point and infilling areas on the lower slopes, a process which requires the excavation of 200,000 cubic metres of material.
Councillors who approved the 2018 planning application were told that all excavated material would be relocated on site, with "no requirement to import or export material". However, new site owner Wainhomes later submitted revised plans as part of the 'discharge of conditions' process, indicating a need to transport 20,000 cubic metres of earth off site. Council officers deemed the new plans acceptable after "assessing them against the original reasons for imposing conditions, as well as planning policy and guidance".
The work that has started in recent weeks at Parkway North is to create a new arm off the roundabout to form one of two permanent access roads into the development. The other access point will be on Old Gloucester Road.
---
East of Harry Stoke New Neighbourhood Wainhomes / South Gloucestershire Council land north of the railway line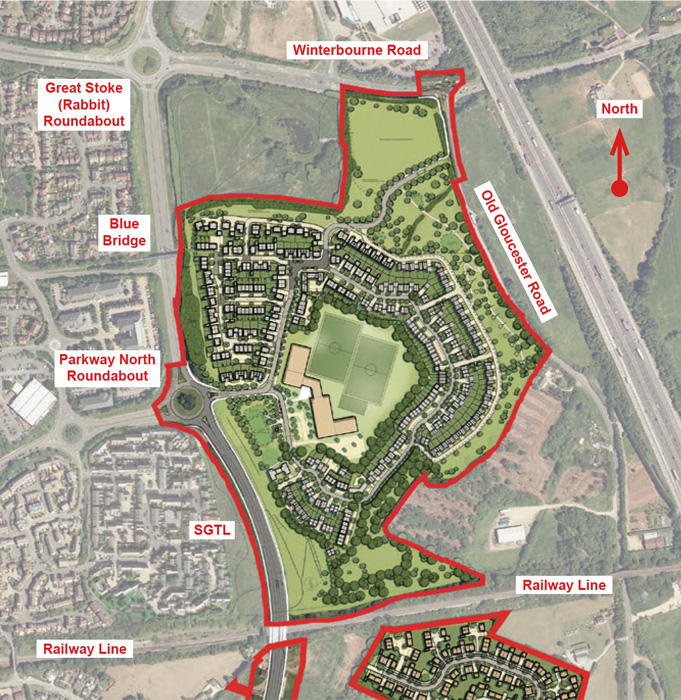 Approved planning application PT16/4928/O
Hybrid planning application for the demolition of farmhouse and agricultural buildings and erection of 327 dwellings with a primary school and nursery; along with site access/spine road, car parking, public open space, landscaping, drainage infrastructure and associated infrastructure; of which full permission is sought (with no matters reserved) for a site wide earthworks strategy and drainage infrastructure together with 150 no. dwellings (of the 327 total) and associated landscaping, layout, infrastructure and access; and outline permission is sought for the erection of 177 dwellings, primary school and nursery (Use Class D1) with access to be determined and all other matters reserved.
Vehicular access to the site will be from a new arm off Parkway North Roundabout in the west, and via a new junction on Old Gloucester Road, 90m south of its junction with Winterbourne Road in the east.
The proposed new primary school and associated playing fields lie in the centre of the site, due east of Parkway North Roundabout.
Full details: Planning application PT16/4928/O
Pending planning application P20/03681/F
Erection of 150 no. dwellings, associated landscaping, infrastructure and vehicular access.
Full details: Planning application P20/03681/F
---
Editor's note: The Journal approached Wainhomes to invite the company to explain the reasons for its change in approach to exporting excavated material from the site, and to provide details of its partnership with South Gloucestershire Council. The request was acknowledged, but no response has been forthcoming.
This article originally appeared in the March/April 2021 issue of the Stoke Gifford Journal magazine (on pages 8 & 9). The magazine is delivered FREE, nine times a year, to over 5,000 homes in Stoke Gifford, Little Stoke and Harry Stoke. Phone 01454 300 400 to enquire about advertising or leaflet insertion.