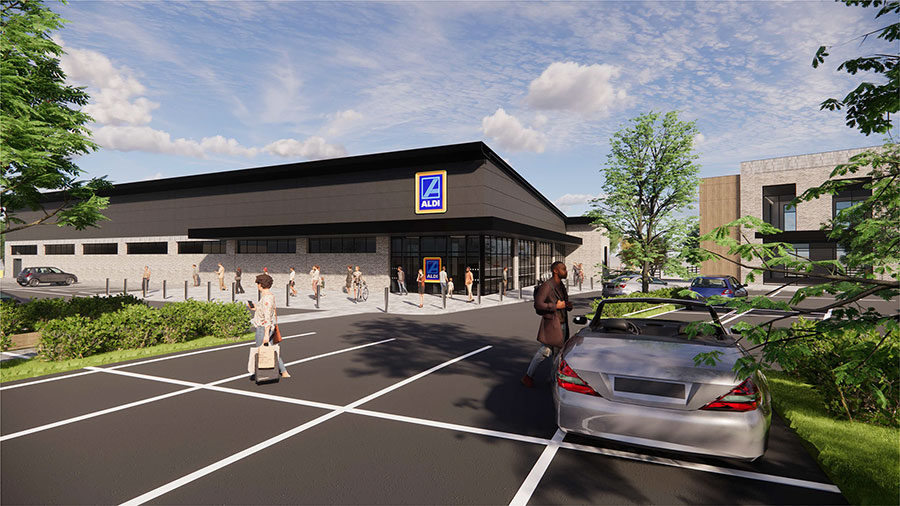 Stoke Gifford residents look set to have a new Aldi supermarket and a Costa drive-through on the doorstep within two years after plans for a new mixed-use development were given the green light.
The development site, on vacant land behind the existing Sainsbury's store at Fox Den Road, will also accommodate a four-storey hotel (103 bedrooms) and restaurant (4,383 sqm) which have been pre-let to Premier Inn and Beefeater respectively.
The approved plans also include a multi-use building, which does not currently have any pre-lettings. This building will most likely be constructed in a later phase, with its footprint initially being occupied by an interim 'pocket park'.
The successful application was submitted by property developers Baylis Estates Ltd, joint owners of The Mall at Cribbs Causeway
Vehicles will enter and leave the site via a single access point off Fox Den Road, close to the Sainsbury's delivery yard (on the right when driving on the access road into Sainsbury's).
The development will provide 240 car parking bays, including 16 disabled spaces, 9 parent and child spaces and 10 electric vehicle spaces (complete with charging points). There will also be 40 covered and 52 uncovered cycle parking spaces.
The approved scheme incorporates five new pedestrian access points into the site, with three defined routes through it.
To further improve accessibility, the applicant has agreed to fund improvements to an existing informal pedestrian crossing on Great Stoke Way, close to the Aviva roundabout.
The applicant responded to concerns that were initially raised over the number of mature trees that would be felled around the perimeter of the site by moving the hotel further away from the eastern boundary. It was also agreed that some better-quality existing trees will be retained, supplemented with new tree planting along the boundary with Great Stoke Way.
A spokesperson for Baylis Estates, the developer, said:
"This is a fantastic opportunity for people who live and work in South Gloucestershire. Our development will offer a new place for people to stay, shop, and socialise. Not only that, but we anticipate that it will create around 170 jobs, which will be vital for our post-Covid economic recovery. We are hoping to start on site later this year, and are expecting the project to be completed in early 2023."
More information and related links:
This article originally appeared in the June 2021 issue of the Stoke Gifford Journal magazine (on page 8). The magazine is delivered FREE, nine times a year, to over 5,000 homes in Stoke Gifford, Little Stoke and Harry Stoke. Phone 01454 300 400 to enquire about advertising or leaflet insertion.