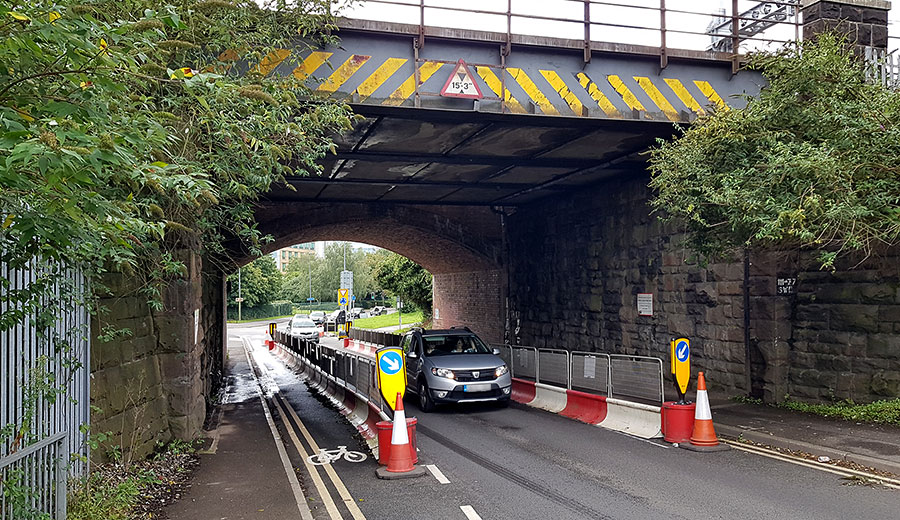 A two-week-long series of overnight closures of the road under Parkway railway bridge is set to begin tonight (Monday 23rd August 2021). Work being carried out during the closures will allow two-way traffic under the bridge to be restored, while at the same time permanently widening the footways by a combined 80 centimetres (50cm on the station side and 30cm on the other side).
Highways officers at South Gloucestershire Council say the 5.7 metres of carriageway space that will remain following the footway widening constitutes "an adequate width for two-way traffic".
Measures to temporarily widen the footways on either side under the bridge were installed in June 2020 to allow for pedestrians and cyclists to socially distance from one another at the pinch point regularly used by commuters and students. As part of this scheme, traffic was reduced to one lane controlled by 'shuttle' traffic lights.
A briefing note produced by council officers in May 2021 recommended that the shuttle lights should remain for a further 12 months, but pressure exerted by local ward councillors along with a public petition has forced a U-turn.
In addition to the highway works under the bridge, a temporary 20mph speed limit order will be introduced along Brierly Furlong and Hatchet Road, from south of the mini-roundabout at Church Road junction to the Ratcliffe Drive roundabout.
Road closure details
Hatchet Road will be closed overnight for ten weekday nights between the hours of 8pm and 6am, from Monday 23rd August to Friday 3rd September 2021. The road will be closed between its junction with Bristol Parkway Station and Church Road.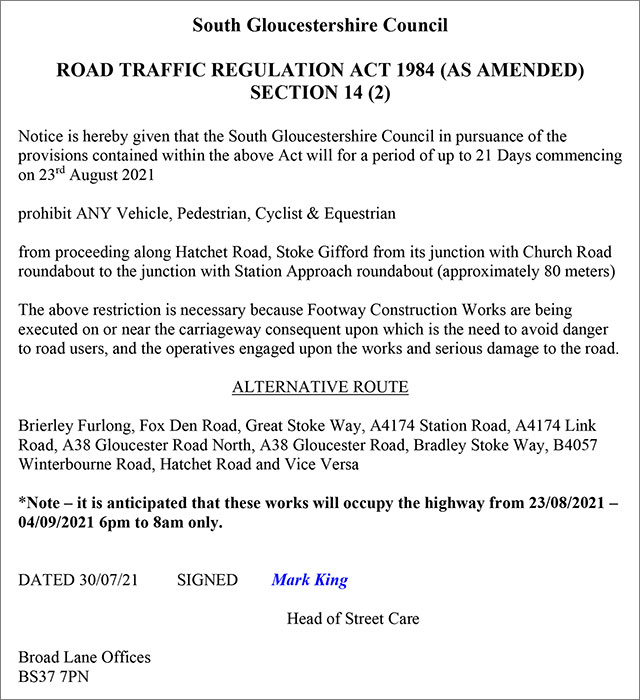 The road closure notice states that the closure will apply to "ANY vehicle, pedestrian, cyclist and equestrian".
The official diversion route is given as being via the A4174 Ring Road, A38 Gloucester Road, Bradley Stoke Way and Winterbourne Road. However, those with local knowledge will be aware of a shorter alternative via the A4174, the Stoke Gifford By-Pass and Winterbourne Road.
Bus diversion
Service 73 heading towards Cribbs Causeway will operate normal route as far as Fox Den Road roundabout then instead of carrying on will turn around and go back onto the A4174 then turn left into Stoke Gifford By-Pass, left into Parkway, onto Hunts Ground Road and into Parkway Station to resume normal route.
Service 73 heading towards Temple Meads will operate normal route to Parkway Station then reverse of above.
Passengers are advised to wait at the bus stop in Parkway Station currently served by service 19 and Y6 just after the zebra crossing.
The bus stops 'Abbeywood School' and 'Brierly Furlong' will not be served in either direction.
Council statement
South Gloucestershire Council's Cabinet member for regeneration, environment and strategic infrastructure, Cllr Steve Reade, said:
"The temporary measures at Bristol Parkway bridge were implemented to enable social distancing, but while Covid-19 restrictions have been lifted and the necessity for them to remain in place has greatly reduced, there is still a need to maintain safety for pedestrians and cyclists under the bridge."

"Following consultation with local members, we will be introducing a new scheme which will re-open this local pinch point to two-way traffic while maintaining the safety of pedestrians and cyclists by widening the footpaths and introducing a lower speed limit. The work will be carried-out with overnight closures in place to minimise any disruption at peak times and we thank members of the public in advance for their patience."

"Our efforts to deliver a long-term solution to ensure safety under the bridge continue and we are working with Network Rail to explore the potential for a separate pedestrian tunnel through the embankment of the bridge."