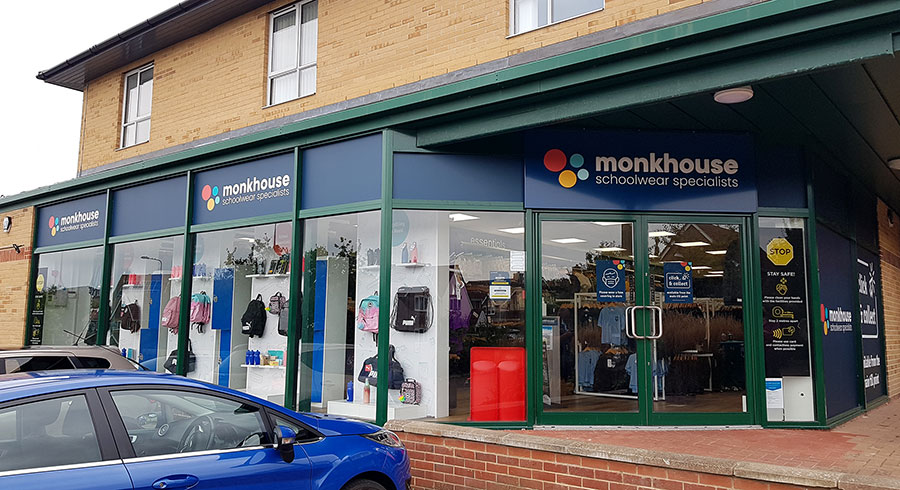 The firm behind a Stoke Gifford school uniform store has come under fire from scores of parents who fear they won't have their orders fulfilled before the start of the new academic year in September.
Monkhouse Schoolwear Specialists (part of F.R.Monkhouse Ltd) is the appointed sole uniform supplier for a majority of schools in the Stokes and for many others across the wider Bristol and South Gloucestershire area.
The company opened its store at Simmonds View, Stoke Gifford in June 2020. At the time it had no agreements in place with schools in the immediate area, however this changed when it took control of Hambrook-based Initially Yours on 30th November 2020.
Parents were advised of the change of supplier in early January 2021 and were directed to their school's "personalised online webpage" on the Monkhouse website, where they would be able to "make quick and easy purchases".
The first signs of difficulties emerged in late February when a news item from Bradley Stoke Community School (BSCS) mentioned delays caused by uncertainty over the school logo and some items not being shown on the Monkhouse website. Reference was also made to Monkhouse staff being "brought back from furlough" in an effort to meet orders.
Complaints of "awful service" and long delivery times began to appear in late April, prompting the firm to issue an "important message regarding global supply chain challenges that are impacting the supply of school uniform across the UK". The note stressed that the challenges were not only impacting Monkhouse, but "all schoolwear suppliers across the UK", but it also blamed low stock levels inherited from Initially Yours. The message read:
The availability of school uniforms across the UK is being seriously challenged by the impact of COVID-19 on global supply chains and the major disruption to worldwide shipping. This was impacted further by the recent closure of the Suez Canal.

This is leading to out of stocks and delays on some orders, this is likely to continue throughout summer and into Back to School.

Not only are we experiencing delays in orders, our supply chain is unable to provide accurate delivery dates into our stores and distribution centres. Subsequently, we are then unable to provide you with delivery dates.

For those parents who are affected, we apologise for any inconvenience and we're working to gain more accurate information from suppliers.

This situation has been exacerbated for schools that were previously supplied by Initially Yours.

Unlike Monkhouse, Initially Yours didn't hold school specific stock, meaning they relied on quick service from the supply chain to fulfil all orders. We are in the process of changing this for Back to School but the transition has been delayed due to the supply chain challenges.

Monkhouse is investing in holding significant school specific stock throughout the year which will assure better service. Please bear with us as we work hard to resolve the global supply chain issues. We can then build up to a much higher stock holding than Initially Your previously held.

Rest assured, our teams are working tirelessly to ensure supplies are received and distributed as quickly as possible.
A further leaflet put out via schools in May said Monkhouse were "working hard to modernise the supply of schoolwear, with great service, a focus on sustainability and an active role in the local area".
There was little sign of improvement by the end of May, when one Journal reader commented:
"Ordered uniforms, paid for and have never received the goods or a refund. Customer service phone numbers ring out and they don't answer emails. They're currently using the excuse of Covid on their website, which is pretty shameful considering its down to poor customer service."
Problems were compounded in mid-July when BSCS reported that the Stoke Gifford store had been forced to temporarily close "due to a positive Covid-19 case". Parents were advised that the Monkhouse team would contact them and re-arrange appointments that had been booked during this period. They were also told to "order on the website, where possible".
With the start of the new school year now just a fortnight away, local Facebook groups have been awash with comments from frustrated parents who are yet to receive clothing that was ordered months ago, or have been frustrated by the quality of service at the Stoke Gifford store.
Some customers have complained of low or non-existent stock levels in the local store, meaning their children have been unable to try items for size before an order is placed. Others have reported being told that their order is available for collection for the store, only to be told on visiting that it cannot be found, sometimes after a lengthy wait in a queue outside the shop. There have also been complaints about some items being missing from delivered or collected orders.
Visitors to the Stoke Gifford store have complained that it has only one operational till for both orders and processing payments, leading to waits of over 50 minutes to make payment.
Without the option of using an alternative supplier, parents have voiced concerns about their children being unfairly disciplined by their schools for attending in non-approved clothing and have called for the rules to be relaxed until the supply issues are fully resolved.
One frustrated customer, Ellen Sanders, has started a petition titled 'Bristol schools – please stop the Monkhouse monopoly as a uniform supplier', which attracted over 2,500 signatures within three days of being launched.
The level of discontent is echoed on the customer review website TrustPilot, where an unverified page set up for monkhouse.com currently has 49 of a total of 50 reviewers giving the business a 'bad' rating.
Peter Monkhouse, managing director at F.R.Monkhouse Ltd, told the Journal:
"We fully appreciate and share parents' concern over receiving school uniforms in time for the start of school, but like many other businesses in the UK, our stock supplies are being affected by international shipping delays caused by Covid. Although we ordered stock earlier than ever to try and combat Covid complications, these shipping delays means we are still waiting to receive 7 percent of our Bristol stock and we sincerely apologise for the frustration this is causing. We have been in close contact with the local schools that are affected since April, to keep them fully aware of the pandemic-related shipping challenges that are affecting uniform supplies, and we are continuing to work hard to help families get ready for school."

"To help keep our customers and staff safe, we set up a one-to-one appointment system this year and have conducted more than 8,800 one-to-one appointments for Bristol schools' parents so far, with a high customer service rating overall. However one of our stores [Stoke Gifford] was affected by the pingdemic and staff testing positive on the same day, causing it to close. While our team immediately started contacting those with appointments, unfortunately we were not able to reach a small number people in time and we sincerely apologise for the inconvenience this caused them."
Asked about the claimed "high customer service rating", Mr Monkhouse explained:
"Customers who shop with us are asked as they leave to complete a number questions, including 'How would you rate the service you have received today on a scale of 1-10 (1 = Poor, 10 = High)'. To date, our Stoke Gifford store has achieved an NPS* score of +94."
* The Net Promoter Score [NPS] is an index ranging from -100 to 100 that measures the willingness of customers to recommend a company's products or services to others.
Editor's note: Many of the local schools that have Monkhouse as their sole supplier, including BSCS, belong to the Olympus Academy Trust. The Journal approached the Trust for comment, but it was unable to provide a response in time for the publication of the article. We will append an update to the article at a later date should a response be forthcoming.
---
Schools supplied by Monkhouse
UPDATE added 24th August 2021.
According to the Monkhouse website, the following schools in the Stokes are currently served by the firm:
Primary Schools
Baileys Court Primary School
Bowsland Green Primary School
Bradley Stoke Community School (Primary Phase)
Holy Trinity Primary School
Meadowbrook Primary School
St Mary's Primary School
Wheatfield Primary School
Little Stoke Primary School
Holy Family Primary School
Stoke Lodge Primary School
St Chad's Primary School
Secondary schools
Bradley Stoke Community School
Patchway Community School
Note: Abbeywood Community School uses a different supplier, Harris Sports Ltd.
---
Statement from BSCS
UPDATE added 27th August 2021.
Extract from a letter sent to parents/carers of students at Bradley Stoke Community School (BSCS) on 27th August 2021:
"A number of parents have made us aware of issues they have had with orders of uniform from our uniform suppliers, Monkhouse and we have been in contact with them about these issues. Monkhouse and ourselves would like to apologise for the delay in those deliveries. Not only has Monkhouse taken over our previous supplier, Initially Yours, who have ceased to trade, but they have also been dealing with the supply and staffing issues that the pandemic has caused (and has continued to cause through the summer). Whilst we know this is frustrating for all, Monkhouse have re-assured us that they now have all of the stock in for those delayed orders and are working through those and others as quickly as possible. It may well mean that some students will not have all of their uniform orders for the start of term. Monkhouse have issued a statement explaining in more detail the difficulties they have had to manage due to the impact of the pandemic that is available on our website."

"If your child has not received their uniform order by the start of term (Tuesday 7th September for Year 8-11 students), please write them a note explaining exactly that. They will be able to show the note as confirmation to members of staff if required. If you can include as much information in that note as possible, it will also allow us to follow this up with Monkhouse and hopefully rectify the situation as quickly as possible. Again, I appreciate this is not an ideal situation at the start of the new school year but it is a knock-on effect of all of the difficulties we have had to cope with over the past two years. Please be re-assured that we will not be issuing any consequences to students in incorrect uniform if they are waiting on uniform orders and have a note from parents to explain exactly that."