Welcome to The Journal's guide to physiotherapy services in and around Stoke Gifford and Little Stoke.
Physiotherapy helps to restore movement and function when someone is affected by injury, illness or disability. It can also help to reduce your risk of injury or illness in the future.
It takes a holistic approach that involves the patient directly in their own care.
Read more: Physiotherapy (NHS)
Physiotherapists in and around Stoke Gifford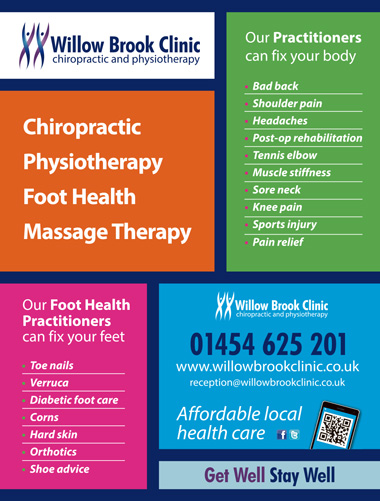 Willow Brook Clinic
Physiotherapy and chiropractic
Suite 2A
The Willow Brook Centre
Bradley Stoke
Bristol
BS32 8BS
Tel: 01454 625201
Website: Willow Brook Clinic

Advertising with North Bristol Press since March 2014
---
The Physio Clinic
Riverside Leisure Club
Station Road
Little Stoke
Bristol
BS34 6HW
Tel: 01454 540066
Website: The Physio Clinic
Facebook: The Physio Clinic Bristol
The Medical
2440 The Quadrant
Aztec West
Almondsbury
Bristol
BS32 4AQ
Tel: 0117 376 3732
Website: The Medical, Bristol
Bradley Stoke Physiotherapy
Bradley Stoke Leisure Centre (ground floor)
Fiddlers Wood Lane
Bradley Stoke
Bristol
BS32 9BS
Tel: 01454 618525
Website: Bradley Stoke Physiotherapy
Advertise your business here. Basic listings are FREE. Contact us to request an entry.