The Olympus Theatre is a 250-seat state-of-the-art theatre space at the Wise Campus of the South Gloucestershire and Stroud college (formerly Filton College) in Stoke Gifford, Bristol.
The flooring space within the theatre is specially designed for use without having to insert a separate stage on top. However, depending on what the space is being used for, alternative staging, flooring and matting can be used to suit the occasion.
The theatre is used by the South West Academy of Dramatic Arts (SWADA) for student performances and has become hugely popular with outside companies looking to promote and perform their own acts and shows.
SWADA offers BTEC Introductory, First, National and Higher National Diplomas (HND), and Professional Diploma courses in Performing Arts. Disciplines available for study include Music, Musical Theatre, Technical Theatre, Acting, and Dance.
Location of the Olympus Theatre: BS34 8LP [map]
For more information, contact the SGS WISE Events & Campus Manager on 0117 919 2639.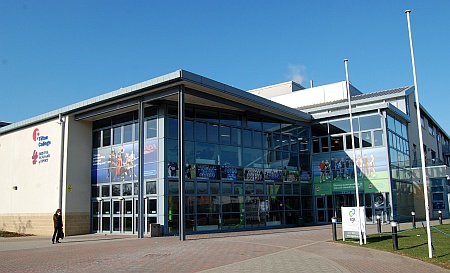 Photo: Wise Campus of the South Gloucestershire and Stroud College
What's On at the Olympus Theatre
Check out The Journal's What's On guide for the latest news about events at the Olympus Theatre, Bristol.
Stories about the Olympus Theatre in The Journal