Posted on Monday 16th September 2019 at 6:38 pm by SH (Editor)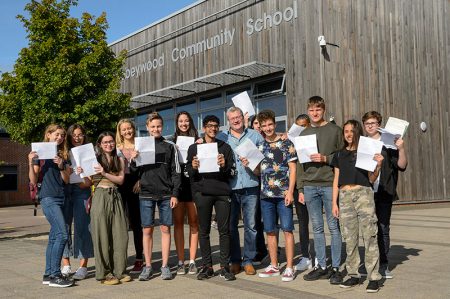 Abbeywood Community School (ACS) students are celebrating their GCSE results, which are said to show a strong trend of improvement for the school in all key performance measures.
Overall, students have achieved better progress than the national average, with over two-thirds achieving a standard (grade 4) pass in both English and maths.
In addition to the featured high-attaining students (see below), many others have made significant progress (measured in comparison to attainment in Year 6 SATs). Students identified by the school as being worthy of particular mention for their progress are:
Lies Dunn
Arielle Toko-Yaleu
Brad Pickford
Annabelle Thomas
Safira Taplin
Anish Kataria
Freddie Collins
Megan Eyres
Ella Goodman
Rosie Henson
ACS headteacher Dave Howe commented:
"We are absolutely delighted with these GCSE results and extremely proud of our students. Central to our school values is equipping our students with the belief that there is no limit to what they can achieve, and this is reflected in these excellent results. These strong exam outcomes represent a huge amount of hard work and I pay tribute to our amazing staff and wonderful students. I would also like to sincerely thank all our parents and carers for their belief and support, as the relationship between home and school is key to the success we are all celebrating today."
More: Outstanding individual performances »
Share this article:
Discussion is open - be the first to comment - click here to respond.