Posted on Friday 2nd August 2019 at 9:10 pm by SH (Editor)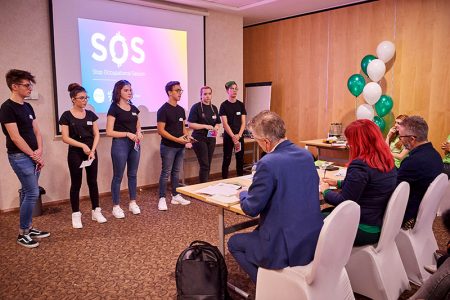 A group of six Year 12 students who attend Abbeywood Community School have reached the final of the Envision Project which they have been working towards for the last eight months. The final took place on Wednesday 12th June at the Wills Memorial building in Bristol city centre, where the group were up against four other Bristol schools.
Envision is an organisation, mainly run by volunteers, whose aim is to develop young people's employability by empowering them to tackle real-life social problems. They have been working with secondary schools in Bristol, Birmingham and London for the last 15 years, seeking to instil character and values in young people. They run a programme called 'Community Apprentice' which is loosely based on the TV series 'The Apprentice'. It is an inter-school competition between five schools which requires students to develop and demonstrate the competencies most valued by employers.
At Abbeywood, two groups of students decided that they wanted to take part in the Community Apprentice challenge and so created two teams; Team SOS (Stop Occupational Sexism) and Team Islam No Phobia. Their first task was the film challenge where they had to work as a team to communicate why the issue they had chosen matters. This had to be done in under two minutes and in a single take. Then they had to prepare a project plan and pitch it to a panel of judges at school – this included the headteacher, Mr Howe and their Envision mentors. After a successful pitch and with a score of 43/45, Team SOS won their place at the final.
Team SOS consists of Chris Yalamov, Bianca Gornea, Galin Zhelyazkov, Lara Dalton, Adnan Evans and Denisa Racaceanu. They decided that their passion lay with tackling occupational sexism in Bristol. They have spent the last eight months developing their ideas by delivering workshops to Year 7 and Year 8 students, as well by creating a board game that is aimed at people over 12 years old that has been put up in two boardgame cafés in Bristol; Playground Café and Chance & Counters.
More: "This has really developed my skills in teamwork & leadership" »
Share this article:
Discussion is open - be the first to comment - click here to respond.