Posted on Friday 17th May 2019 at 8:54 pm by SH (Editor)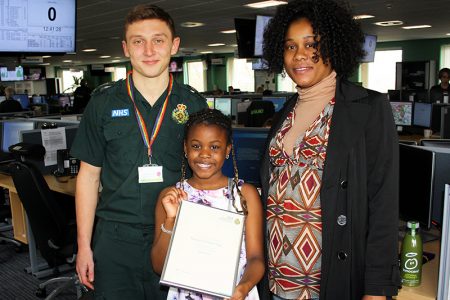 A nine-year-old girl from Stoke Gifford has been officially commended for her "brilliant" response when her mum became seriously ill.
Catherine Camara, 30, was five months pregnant when she collapsed at home and was struggling to breathe. Massa Sow called 999 and told South Western Ambulance Service NHS Foundation Trust (SWASFT) emergency call handler Jonathan Leaton exactly what was wrong.
Massa made a special visit with her mum to the SWASFT control centre in Bradley Stoke on 17th April to be formally acknowledged for her actions.
She was presented with a certificate from SWASFT chief executive Ken Wenman.
Massa, who learned at school how to call 999, said:
"I felt scared, but I knew what I had to do. Now I am pleased mummy is better."
Catherine said:
"I had tears in my eyes listening to the call. I am not surprised she managed to call 999, but I didn't expect her to do so well. She was perfect."
Emergency medical dispatcher Jonathan also praised Massa, saying:
"Massa was brilliant. She provided clear and helpful information throughout the call. She did everything I asked perfectly. It must have been traumatic for her, but she remained calm throughout."
More: How the incident unfolded. Listen to Massa's 999 call. »
Share this article:
Discussion is open - be the first to comment - click here to respond.