Posted on Sunday 9th June 2019 at 5:18 pm by SH (Editor)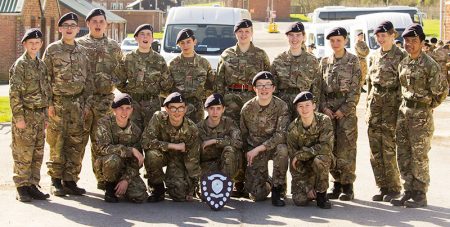 The Stoke Gifford Detachment of the Bristol Army Cadet Force (ACF) recently competed in the B Company Bristol ACF Annual Inter-Detachment Drill Competition. The competition, which was held during their Company Navigation Weekend Camp in March, took place at Knook Camp on Salisbury Plain Training Area.
B Company Navigation weekend is traditionally the first of four weekend camps of the year, normally held in the spring. The weekend consists of various Training and Testing opportunities for the Cadets, in numerous subjects as part of their Army Proficiency Certificate Syllabus, including Military Knowledge, First Aid, Navigation, Drill and Turnout. All Cadets have to undergo these Training and Testing weekends to enable them to pass their Subject Tests and achieve their Star Level.
The Cadets arrived on Friday evening and the first job was to organise them into their relevant Star Levels, from Basic Cadets to Inexperienced Cadets, 1 Star, 2 Star, 3 Star and finally 4 Star who are the most senior and experienced Cadets. Allocation of accommodation and camp brief was shortly followed by bed as the Cadets were facing an early start the next day.
Saturday was a busy day for everyone, with adults and Senior Cadets all ready to deliver their lessons on numerous subjects to the Cadets, with the main priority being Navigation, as later in the day all Cadets participated in a Navigation Exercise where they were assessed on their navigation skills relating to their Star level.
Sunday arrived and the excitement for the Drill Competition was clear, with all Detachments going through their final preparations. The Drill Competition consisted of a Turnout Inspection by the Company Sergeant Major (CSM) where the Cadets' uniforms are inspected. This was followed by a pre-planned routine of various drill movements, including marching and turns, which each Detachment must complete, with the loss of ½ point for each error made. Drill requires the Cadets to be disciplined and to work as a team, which requires weeks, if not months, of training.
More: "Probably one of the best Drill routines I have ever seen" »
Share this article:
Discussion is open - be the first to comment - click here to respond.