Posted on Sunday 3rd December 2017 at 5:35 pm by SH (Editor)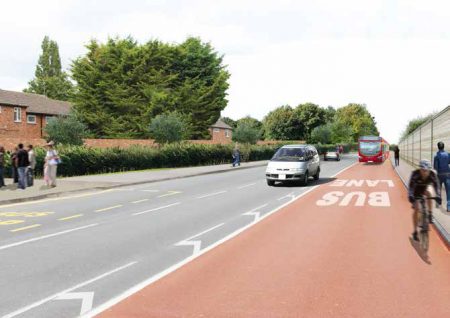 The future of a controversial plan to construct a new southbound bus lane on Hatchet Road in Stoke Gifford looks set to be finally decided, without further public consultation, at a meeting of South Gloucestershire Council's (SGC's) Cabinet on Monday 4th December.
The move is likely to anger local campaigners who collected more than 3,300 signatures on a petition that called for the original decision to be reviewed, leading to the council resolving in July 2017 to bring forward alternative proposals for consideration and carry out further consultation.
The proposed new bus lane will form part of the Cribbs Patchway MetroBus Extension (CPME) scheme, which will link The Mall at Cribbs Causeway with Bristol Parkway Station and serve the new developments planned for the former Filton Airfield site.
Local residents and councillors have expressed strong opposition to the bus lane because it will require mature hedgerows and trees to be removed from both sides of Hatchet Road. They also claim it is a waste of money, costing £2m to reduce bus journey times by just 29 seconds (revised to an average of 93 seconds in a new report prepared for this month's meeting).
The overall cost of the CPME scheme is estimated at £35m, a major part of which will be spent on replacing the railway bridge on Gipsy Patch Lane with a much wider concrete structure that can accommodate a bus lane and a general traffic lane in each direction.
Members of the Hatchet Road Action Group have previously expressed preference for an alternative scheme involving the implementation of lay-bys at bus stops, which they claim would facilitate better traffic flow for all road users. This was substantiated by figures in SGC's original report, which showed that it would achieve improved bus journey time savings in comparison to the bus lane option. However, officers advised against it on the grounds that it "would not necessarily deliver consistently reliable bus and MetroBus journey times".
In the latest report, consultants say they have revisited the original analysis and identified shortcomings, such as a too pessimistic view being taken of the chance of MetroBus vehicles having to wait at pedestrian crossings and behind other buses at non-MetroBus stops. They also claim insufficient allowance was made for delays faced by buses re-entering the main traffic flow from lay-bys. The net result, it is claimed, is that the bus lane option can now be shown to perform better than lay-bys.
More: Hints that cllrs might nonetheless scrap bus lane to save money »
Share this article:
Discussion is open - be the first to comment - click here to respond.