Posted on Saturday 6th January 2018 at 8:20 pm by SH (Editor)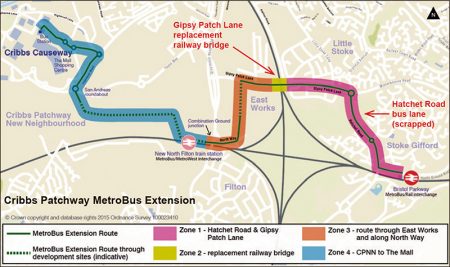 A controversial plan to construct a new southbound bus lane on Hatchet Road in Stoke Gifford, as part of a scheme to extend the currently under-construction North Fringe to Hengrove Package (NFHP) MetroBus network, has been scrapped after South Gloucestershire Council's Conservative-led administration announced a "change of policy".
The move appears to have been driven by a fear that the Cribbs Patchway MetroBus Extension (CPME) project may already be heading for a significant overspend before a spade has even touched the ground.
The CPME will provide a MetroBus route between The Mall at Cribbs Causeway and Bristol Parkway Station. It will also serve the new developments planned for the former Filton Airfield site.
The Hatchet Road bus lane had formed part of the scheme since its inception, yet was overwhelmingly opposed during a public consultation exercise in winter 2015/16. In their responses, many local residents criticised the plan to uproot mature hedgerows and trees from both sides of Hatchet Road and there were calls for an alternative route to be used along Winterbourne Road and Great Stoke Way, accessing Parkway Station from the east.
When the proposals first came to an SGC committee for approval in May 2016, a report prepared by officers showed that the Hatchet Road bus lane would cost £2m to implement and yet save only 29 seconds on MetroBus journey times (and this at just one time of day). One alternative option involving the implementation of lay-bys at bus stops instead of a bus lane, came out cheaper and more effective, but officers insisted that the bus lane option was better because it offered "consistently reliable" MetroBus journey times.
More: U-turn prompted by a "divergence of views" »
Share this article:
Discussion is open - be the first to comment - click here to respond.