Posted on Tuesday 31st July 2018 at 1:55 pm by Laura Mortimore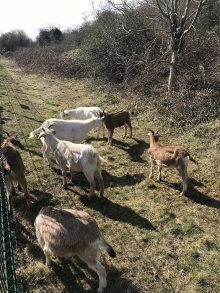 A herd of goats that were brought to graze behind the Park and Ride car park on Hunts Ground Road over winter and spring 2017/18 have returned to the same site.
South Gloucestershire Council has once again teamed up with local community group Street Goat to provide an area for the goats to graze. The six goats were moved to Goblin Combe by the airport in April but as they worked their way through the vegetation, it was time to find them a new place to thrive. Carol Laslett, one of the workers from Street Goat, said:
"Goblin Combe is a great site but the goats are excellent escape artists and have wandered further and further as the search for tree leaves at eating height continued! Three of them had some sort of vegetation poisoning in May time and they were lucky to get treatment and survive. So, after visiting Parkway site, it seemed prime time to get them back to where there is food in abundance for them."
In the coming weeks, the six goats will be joined by a further four to eight goats, depending on the impact the six have made on the brambles that are currently covering the site. The new goats will hopefully include some male kids from Grimsbury Farm and the return of Betty, who had to be removed from Parkway last winter to be cared for through her pregnancy. She will hopefully be returning soon with her own kid.
The goats should be staying at the grazing site until September when they will be taken away and used for their meat. Carol explains the process:
"These goats are mainly the bi-product of the dairy industry where male kids are killed at birth, being of no use in a dairy! We are able to use a few for conservation grazing so they get a good 9 to 15 months life and then they become a meat resource for us. Their meat is better nutritionally than beef!"
More: Feeding advice for members of the public »
Share this article:
Discussion is open - be the first to comment - click here to respond.