Posted on Thursday 11th January 2018 at 11:11 pm by SH (Editor)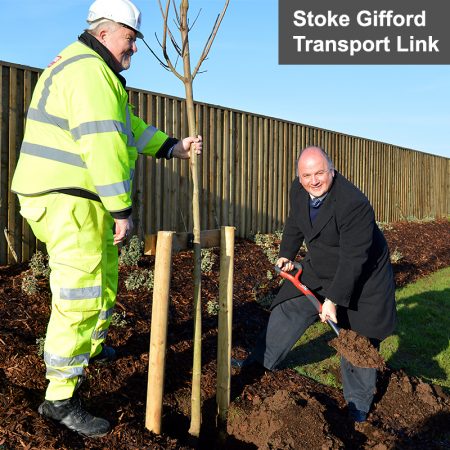 Bradley Stoke motorists who need to access the A4174 Ring Road and M32 motorway were given an early Christmas present on Monday 18th December when the long-awaited Stoke Gifford By-Pass, officially known as the Stoke Gifford Transport Link (SGTL), was opened to general traffic.
The news will also be warmly welcomed by residents of Stoke Gifford "village", as it is hoped that the new road will help reduce the flow of traffic along Hatchet Road and Brierly Furlong, which currently suffer from severe congestion during the morning and afternoon rush hours.
The new road, which is 1.6km (one mile) long, has been constructed through open countryside to the east of Stoke Gifford (see map below). It links Parkway North Roundabout on Great Stoke Way (A) and the A41474 Ring Road (D), emerging at a junction opposite the Holiday Inn.
Its construction has required the installation of two new bridges, one over the main railway line (B, near Kings Drive) and the second over the Ham Brook (C, close to the new Crest Nicholson housing development at Highbrook Park).
Work on the road began in August 2015, when Alun Griffiths (Contractors) Ltd set up a site compound near Parkway North Roundabout. A major milestone was reached when beams for the new bridge over the railway were installed in May 2016. However, the project suffered delays in recent months due the late completion of the second new bridge, over the Ham Brook.
More: "MetroBus is about sustainable transport for the future" »
Share this article: