Posted on Monday 2nd September 2019 at 8:10 am by SH (Editor)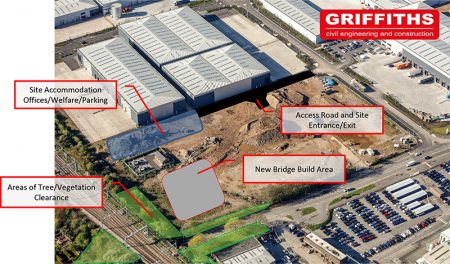 Roadworks are due to begin on Gipsy Patch Lane from Monday 2nd September in preparation for construction work to replace the Victorian era railway bridge and widen the road as part of the Cribbs Patchway MetroBus Extension (CPME).
The September roadworks, which will involve the use of three-way traffic lights at the railway bridge, follow a four-week full closure of the road in June 2019, which was required to allow BT to divert underground services ahead of the main project commencing in August.
Network Rail's contractors Alun Griffiths duly commenced work at the site on Friday 9th August and they have already carried out some vegetation clearance along the railway corridor near the bridge. Ground preparations have also been carried out within the designated site compound area within the Horizon Business Park immediately south west of the bridge.
Following reports in the press that one business, Tyres Direct, saw a 40 percent drop in takings during the June road closure, South Gloucestershire Council (SGC) is emphasising that all businesses in and around Gipsy Patch Lane will be open as usual during this latest phase of work.
Work due to take place from September will include:
Continuing work on establishing a construction site in the Horizon 38 Business Park next to the railway bridge. This is where the new bridge will be constructed before it is moved into position over Easter 2020
Further clearance of trees and shrubs will take place around the existing bridge, including the removal of the large trees outside the Pegasus Park business area
Preparation for foundation work at the four corners of the new bridge and the installation of dropped kerbs for temporary pedestrian crossing points on Gipsy Patch Lane
Piling works will need to be carried out from October to construct foundations for the new bridge.
More: Three-way temporary traffic lights from Monday 2nd September »
Share this article:
Discussion is open - be the first to comment - click here to respond.