Posted on Thursday 12th April 2018 at 9:38 pm by SH (Editor)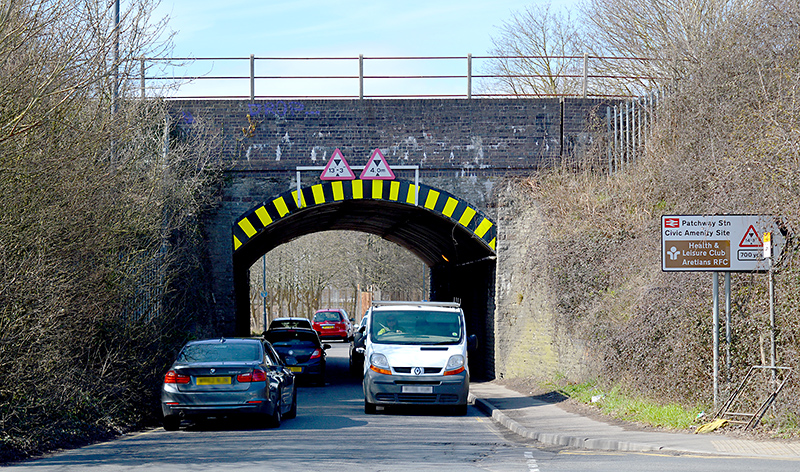 Replacement railway bridge will be widely welcomed, but council says installing it (and some new bus lanes for 'MetroBus 2') will require a FULL CLOSURE of Gipsy Patch Lane for up to EIGHT MONTHS.
The long overdue replacement of the old railway bridge on Gipsy Patch Lane in Little Stoke has taken a significant step forward with the submission of a formal planning application.
The railway bridge planning application, along with three others associated with South Gloucestershire Council's (SGC's) proposed Cribbs Patchway MetroBus Extension (CPME) scheme, was submitted at the end of February and, following validation, duly appeared on the council's website on 9th March.
Once complete and services start operating in 2021, the CPME will extend part of the North Fringe to Hengrove MetroBus route which is currently being built. Passengers using the extension will be able to benefit from a direct link between Bristol Parkway Station and The Mall bus station, along a route which will pass through the former Rolls-Royce East Works site (now known as Horizon 38) and the soon-to-be redeveloped Filton Airfield site.
The second CPME planning application of local significance is one which proposes the widening of Gipsy Patch Lane on both sides of the railway bridge to accommodate new bus lanes. To the west of the bridge, the widening (along a 107m length) will result in a new bus lane in each direction. To the east of the bridge, the widening (along a 340m length) will result in a new bus lane in the eastbound direction only.
To facilitate the provision of the new bus lanes, the existing carriageway will be widened by between 7m and 9m. Works to widen the carriageway will all be within the existing adopted highway boundary, however, they will entail the removal of approximately 22 trees along Gipsy Patch Lane.
More: Construction schedule and details of road closures »
Share this article:
Discussion is open - 5 comments (view) - click here to respond.