Posted on Saturday 26th January 2019 at 7:36 pm by Laura Mortimore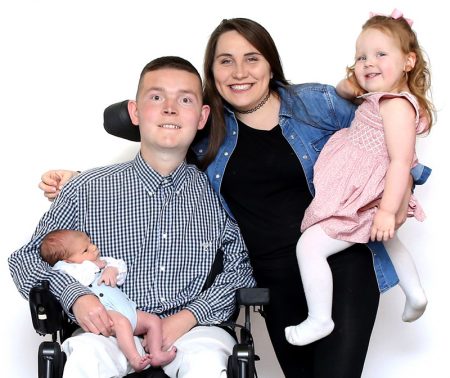 Stoke Gifford resident Mitch Coles has been living with Duchenne muscular dystrophy (DMD) since he was two years old. At the age of 18, he was told that he would not live past the age of 21. Now 26, Mitch has a partner and two children and is living his life to the fullest. He wants to show others that it is possible to parent with a disability and he provides support to those doing this through his blog 'Two Doughnuts'.
DMD is a genetic disorder characterised by progressive muscle degeneration and weakness. It is caused by an absence of dystrophin, a protein that helps keep muscle cells intact. Muscle weakness can begin at an early age, first affecting the muscles of the hips, pelvic area, thighs and shoulders, and later the skeletal (voluntary) muscles in the arms, legs and trunk. By the early teens, the heart and respiratory muscles also are affected.
Mitch now uses a wheelchair to get around and is looked after daily by a carer as he is unable to move any of his limbs.
Even with these difficulties, Mitch is still able to parent his two children, Aubrey and Ethan. He said:
"I have always wanted to have children. I knew it would be difficult and before we started our family I was worried about what I wouldn't be able to do. Some people told us that it wasn't a good idea, but that just made me more determined! A lot does come down to my partner, Alice, but she still gets some time to herself while I look after the kids with the help of my carer."

"The hardest thing about parenting with DMD is not being able to do some things, such as picking my children up, taking them swimming or for bike rides. However, I can't imagine my life without them. I haven't let my disability stop me from having a normal life and I certainly haven't let what that doctor told me at 18 hold me back."
More: "There are different types of families and different dynamics" »
Share this article:
Discussion is open - be the first to comment - click here to respond.