Posted on Friday 23rd October 2015 at 9:47 pm by SH (Editor)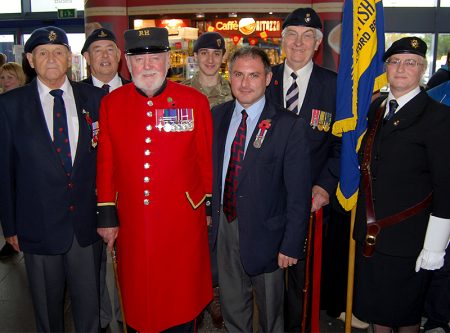 The Stoke Gifford branch of The Royal British Legion (RBL) launched its 2015/16 Poppy Appeal with a ceremony in the foyer of Bristol Parkway Station this afternoon (Friday 23rd October).
The branch was pleased to welcome a special guest, Chelsea Pensioner Brian Cummings MBE, who cut a ceremonial ribbon to mark the start of the local appeal.
Mr Cummings retired from the army in 1983 following 33 years of service with the Royal Corps of Signals, during which he saw service in the Middle & Far East and on the continent. He was made an MBE for his welfare work at the Ministry of Defence, where he spent 14 years after retiring from the army. He became a resident of the Royal Hospital (home of the Chelsea Pensioners) following the death of his wife in 2009.
The ceremony was also attended by Station Manager Linda Swainger, Jack Lopresti MP (RBL branch vice president), members of the 1st Stoke Gifford (Old School Rooms) Scout troop and other supporters of the local RBL branch.
Parkway Station is one of the main sites for the branch's fundraising efforts, along with the Asda store in Filton, Sainsbury's in Stoke Gifford and the Willow Brook Centre in Bradley Stoke.
Branch members will be collecting at each of the four venues daily from 9am to 6pm until Sunday 8th November. In addition to traditional poppies, the branch will be once again be selling its popular knitted poppies, along with wristbands, snapbands, centenary edition enamel badges, car badges and wooden crosses.
Share this article: