Posted on Sunday 22nd January 2012 at 9:15 pm by SH (Editor)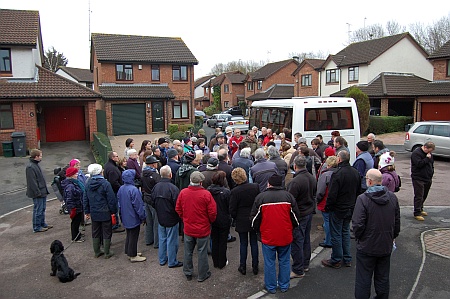 District Councillors inspecting the site of a proposed 42 acre rail depot in Stoke Gifford were given a frosty reception from around 50 residents at a meeting in Sandringham Road last Friday (20th January).
Hitachi Rail wants to build the depot on the Filton Triangle [map], an area of land bounded by railway lines to the west of Parkway Station, as part of the £1 billion project to electrify the Great Western mainline.
More than 500 local residents have objected to the scheme, saying they fear the 24/7 depot will create noise, fumes and light pollution, lead to an increase in flooding and pollute waterways in the area.
Friday's street meeting gave the applicant's agent, local residents and local Parish and District Councillors a chance to address members of a South Gloucestershire Council planning sub-committee assigned to inspect the site prior to a decision being made.
The meeting got off to a tense start, with residents heckling the Sub-Committee Chair Cllr Dave Hockey as he tried to explain the procedure to be followed during the 35 minutes allowed. Interruptions continued as planning officer Simon Penketh tried to outline the proposals with the aid of a large plan, with many people saying they couldn't hear what was being said.
The meeting went on to hear Andy Barr, agent for Hitachi, read out a prepared statement, followed by observations and comments from local South Gloucestershire Councillor Keith Cranney.
One resident who said he was in favour of the scheme "with reservations" was then allowed to speak, before opponents – headed by Lesley Cox of the Stokes Campaign Against Rail Electrification Depot (SCARED) – were given a chance to have their say.
Cllr Hockey thanked everybody for their contributions, adding that although procedure dictated that no answers could be given to protesters' questions on the day, these would be provided in a report published prior to a planning meeting scheduled for Thursday 2nd February, when a decision to approve or refuse the application is expected to be made.
More: A summary of 'who said what' at the meeting »
Share this article: