Posted on Wednesday 16th October 2019 at 11:44 pm by SH (Editor)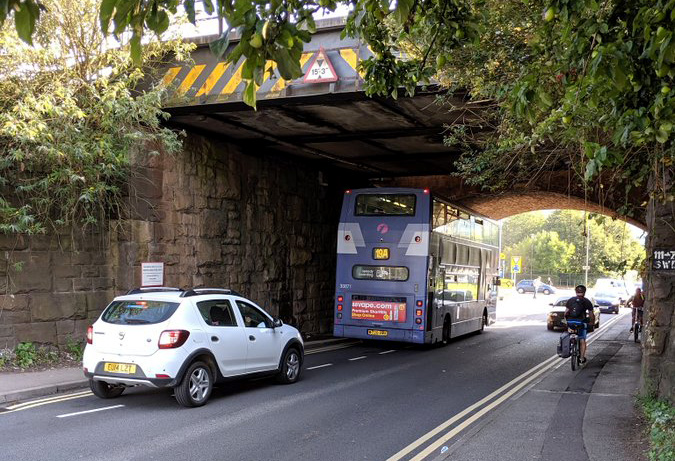 Stoke Gifford councillor Brian Allinson has repeated his demand for a separate pedestrian and cyclist tunnel to be constructed alongside Parkway railway bridge following another vehicle strike incident.
The bridge is actually formed of two separate structures, a steel deck bridge to the Hatchet Road side and a brick arch bridge to the Brierly Furlong side.
While the steel deck bridge has constant height across the carriageway, the brick arch bridge has a lower clearance, both in the centre of the road and more so towards each side.
As well as the usual warning signs on and before the bridge, lines painted in the road are intended to remind drivers of high vehicles that they need to move towards the centre of the road when passing under the structure.
An incident in December 2018 saw the whole roof of a double decker bus sheared off under the bridge. There were no passengers on board the bus at the time, and the driver was reported to be "unhurt but shocked". Fortunately, there were also no pedestrians passing along the narrow footways under the bridge; if there had been, the outcome might have been much more serious.
The recent incident, on 10th September, saw a First Bristol number 19A bus become jammed under the bridge because the driver had failed to move the vehicle towards the centre of the road where the clearance is greater. There were no reported injuries.
In addition to the dangers posed by bridge strikes, Cllr Allinson says the narrow footways under the bridge put pedestrians and cyclists at unacceptable risk on a daily basis.
Speaking at a meeting of Stoke Gifford Parish Council, Cllr Allinson said he was aware that plans for a parallel pedestrian tunnel at the site had been drawn up some years ago when the cost was estimated at £10m but following the recent electrification of the railway line this had risen to £20m.
More: South Glos Council is "assessing options" for the bridge »
Share this article:
Discussion is open - 2 comments (view) - click here to respond.