Posted on Thursday 5th April 2018 at 6:53 pm by Laura Mortimore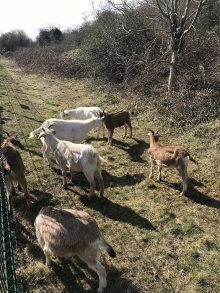 South Gloucestershire Council has teamed up with local community group Street Goat to enhance an area of grassland and encourage wildlife to flourish. The site, which is located behind the Park and Ride car park on Hunts Ground Road, near Bristol Parkway Station, is normally covered with brambles but is now being cleared as the goats eat their way through it.
Four goats were introduced to the patch of land in January and have been working their way through the brambles and shrubs in order to encourage more wildflowers to grow. The purpose of this project is to increase the population of the small blue butterfly (Cupido minimus), an insect which has been declining over recent years and is classified as a 'priority species' in the UK Biodiversity Action Plan. This species of butterfly feeds solely on a wildflower called kidney vetch which grows at the site near the car park. With the goats clearing the brambles and shrubs, this makes way for more kidney vetch to grow which will then hopefully increase the numbers of small blue butterflies.
Kidney vetch is easily recognisable as clusters of small yellow flowers sitting atop little woolly cushions and the council will be able to see if the project has worked when the plants flower between June and September. To help speed up the process, four more goats have now been introduced onto the land, however, a female goat fell pregnant so she has been moved to join a herd of milking goats.  In total there are currently seven goats grazing in the area and creating space for the growth of the kidney vetch.
The goats are very friendly and members of the public are more than welcome to visit and feed them. If you would like to do so, it is asked that food given is placed in a bucket and not on the ground. They like to eat greens, such as:
Outer cabbage leaves
Kale
Brussels stalks
Broccoli
Carrot tops
More: Project follows similar one at Wick Golden Valley Nature Reserve »
Share this article:
Discussion is open - be the first to comment - click here to respond.