Posted on Tuesday 18th October 2016 at 9:39 pm by SH (Editor)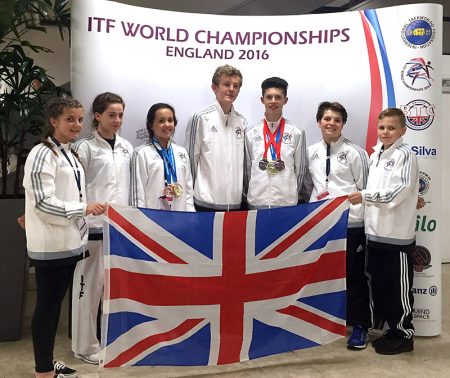 Stoke Gifford Taekwon-do were triumphant at the recent ITF World Championships held in Brighton.
Six members of the club were selected to represent Team UK at the Championships, which were held at the end of July. There were over 39 countries participating in the Worlds, from all continents, which totalled to over 500 competitors.
William Lambern who lives in Stoke Gifford, performed excellently in his first outing at an international championships against some really superb competition from Ireland and Australia, but was unable to get into a medal position.
Esme McCarthy also from Stoke Gifford, came up against some equally tough competition from Canada, Argentina and two Australians in the patterns category but rose to the challenge and was elated to come away with the first place World Champion title! She also had a tough draw in the sparring, as she was moved up to the heavier weight category. She put up a great fight to beat Canada in the first round but was beaten in the next round by Ireland – however this was enough to get her a well deserved bronze.
Lucie Robertshaw was also making her international debut and had a tough decision in her first round patterns draw against Argentina. This did not deter her though, and she went on to put in a fantastic effort against some really mature, tall girls in the special technique division. All her extra practice had paid off and she was rewarded with a well deserved World silver medal for her efforts.
More: Club members already looking forward to 2018 event in Argentina »
Share this article: