Posted on Tuesday 4th June 2019 at 5:55 pm by Laura Mortimore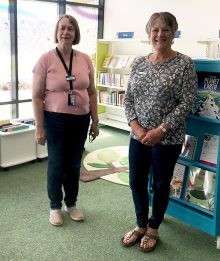 The new Stoke Gifford Retirement Village (SGRV), situated just off Coldharbour Lane, is in desperate need of more volunteers to work in its community library as well as other areas within the village.
The activities and facilities available to both the residents of the village and the wider community are mostly led by volunteers; either the residents themselves or members of the public. Having sufficient numbers of volunteers is therefore vital in keeping the activities running.
Laura Jones is the volunteer organiser at SGRV and she oversees recruiting and managing volunteers for the 70+ roles available. Although she already has numerous volunteers, particularly from the nearby University of the West of England, she is still in need of many more.
As the library is part of South Gloucestershire Libraries, anyone with an 'Active' card (resident or non-resident) can request, borrow and return books and DVDs at this library, or any of the other South Gloucestershire libraries. However, it is currently only able to open two mornings and one afternoon a week due to the low number of people able to work there.
Volunteering at the library would involve a variety of duties, including welcoming library customers and identifying their individual needs, actively seeking to meet those needs and to enable customers to make full use of the facilities available. Staff also support the systems and policies for the loan and management of stock, including self-service and use a variety of resources to provide information, including online services.
Merle Bathe-Taylor, one of the members of staff at the library, would recommend volunteering there as she says:
"I enjoy helping people and being able to assist with their queries. It's lovely to see visitors in the village using the facilities and being able to show them the work we do. Also, it's important to feel valued and to have a purpose in retirement. My role means that I meet new people and remain active in life."
Janet Bacon, another volunteer, added:
"I enjoy the variety of the role and being able to meet and talk to lots of different people."
More: Volunteering Recruitment Fair on Thursday 6th June »
Share this article:
Discussion is open - be the first to comment - click here to respond.