Posted on Thursday 24th March 2016 at 8:38 pm by SH (Editor)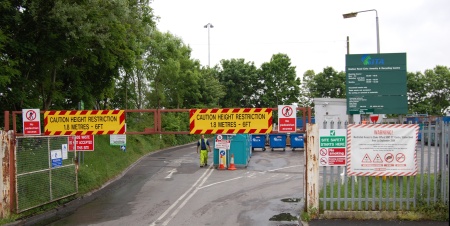 South Gloucestershire residents who want to use local authority Sort It waste disposal and recycling centres, such as the one in Station Road, Little Stoke, must now register their vehicle to access the sites.
A spokesperson for South Gloucestershire Council said:
"You don't need to sign up straight away, just make sure you register at least 24 hours before your next visit. You can sign up at any time of year and you only need to do it once, unless you change your address or vehicle."
Chair of South Gloucestershire Council's Communities Committee Cllr Heather Goddard said:
"We have introduced vehicle registration at our Sort It recycling centres to help reduce the number of people from neighbouring council districts and commercial users from visiting our sites. Residents can sign up at any time and it's very easy to register online, over the phone or at any of South Gloucestershire's One Stop Shops."
There are two types of vehicle registration available:
Standard vehicle registration for vehicles of any size (up to 3.5 tonnes) that have rear and/or side facing windows including cars of any size, campervans, people carriers etc.
Restricted vehicle registration for:
Vans of any size without rear facing windows including minibuses, campervans and cars
4×4s, pick-up trucks or people carriers (MPV) without rear seats and/or windows or with an open back
Flatbed vehicles, box vans, horse boxes with integrated cab and agricultural vehicles up to 3.5 tonnes
A maximum of two vehicles per address can be registered.
More: Vehicle registrations will be checked using ANPR technology »
Share this article: