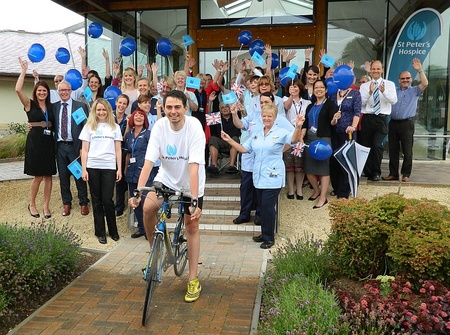 Little Stoke man Mike Trevelyan has completed a sponsored cycle ride taking in all 92 Football and Premier League clubs in England and Wales in just 92 days – to raise money for St Peter's Hospice.
Mike, 21, completed the trek from 2nd May to 1st August in memory of his dad Edward – known as Trev – a massive Bristol Rovers fan who was looked after at the hospice.
Mike said:
"The trek covered over 2,000 miles – which worked out at around one mile for every patient the hospice looked after last year.

"I wanted to do the challenge in memory of my dad and all the other people that St Peter's Hospice has looked after. They do such a fantastic job and this is my way of saying thank you and keep up the amazing work!"
The challenging course across England and Wales began with an emotional send off from Bristol Rovers' Memorial Ground before dropping in on neighbours Bristol City and then heading south to Yeovil and then across the UK. The trek ended on Wednesday 1st August at Cheltenham Town's Whaddon Road ground.
Back in Bristol later on Wednesday, Mike was interviewed on BBC Radio Bristol's Ben Prater Show [listen again until 8th August] and then made an appearance on BBC Points West.
Writing on a special Facebook page created for "Trev's 92 Day Trek", Mike says:
"The amount of support, kind words and donations has been truly humbling and utterly fantastic! Three months ago when I set out on this journey I really didn't know what to expect, with me starting in mid-Spring, I thought I had picked the right time weather wise and temperature wise to achieve my feat of visiting all 92 (plus four more,) football stadiums in England and Wales, to raise money for a charity close to my heart – St Peter's Hospice."

"The longer time went on, the longer the hills got bigger, the longer the rain poured, the longer my legs took an absolute pounding, I never thought of giving in as I wanted to do this to thank the supporters, the charity and most importantly Trev!"
The intrepid cyclist now plans to rest for a couple of weeks before starting to put together a book detailing his journey and "some of the stories I have to tell from the saddle".
In September, he is due to begin a journalism degree course at Worcester University.
Mike's sponsored ride has so far raised over £1,500 for St Peter's Hospice. To add to the total, visit his Justgiving page.
Bristol's only adult hospice cared for 2,675 patients and supported more than 6,000 family members last year, including children. All care is provided free of charge, but with the NHS contributing just under a quarter of the £6.5 million needed to run the hospice a year, support from the public is essential.
Photo 1: Mike Trevelyan pictured at St Peter's Hospice, Brentry, after completing his marathon cycle ride.
Photo 2: Mike pictured in front of the St Peter's Hospice charity shop in Bradley Stoke, prior to setting out on his fundraising trip.