More than 40 firefighters tackled a blaze at the Summer Palace Chinese takeaway in Stoke Gifford earlier today (Thursday 11th July 2013).
The alarm was raised shortly after 11am, and Avon Fire & Rescue Service received more than 20 calls about the incident.
Some witnesses reported seeing flames reaching some 60 feet into the air.
Crews arrived at Simmonds View where they found a well-developed fire in the roof space of the takeaway, which lies within a terraced block.
There are no reports of anyone being injured as a result of the fire, which soon spread to the neighbouring McColl's convenience store.
Both premises have been badly damaged.
The fire service reports that two firefighters wearing breathing apparatus were deployed, while four jets and one high pressure hose reel were used to fight the fire.
Two aerial appliances were also at the scene, and thermal imaging cameras were used to identify any other areas which might require attention.
Adjacent properties were checked as a precaution.
The fire is believed to have started accidentally.
Photo: Flames leap from the roof of the McColl's store [Photo credit: Andrew King]
Photo: The scene at 2.20pm, showing the collapsed roof of the McColl's convenience store and the Summer Palace takeaway to the right.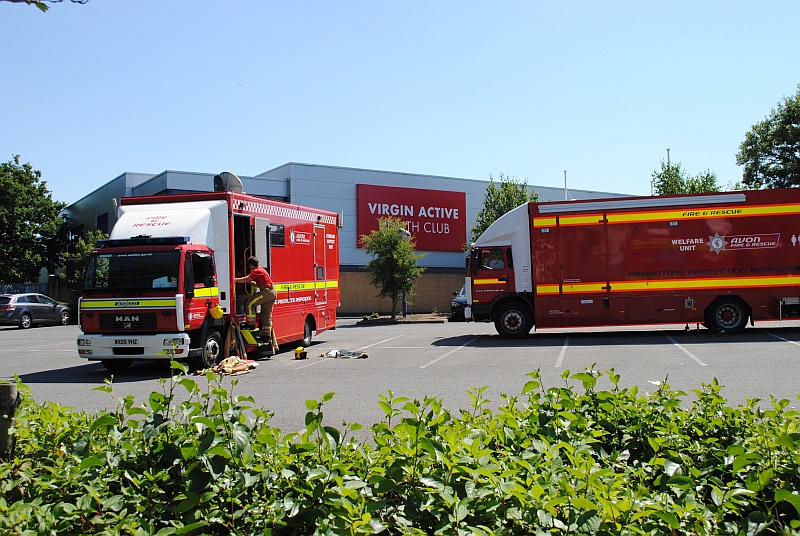 Photo: Fire service vehicles stationed in the car park of the nearby Virgin Active health club.