Popular weekly event in Little Stoke Park celebrates first anniversary.
Sunday used to be my one day of the week to have a lie-in, until just over a year ago, when I took on the role of Event Director of the brand new Little Stoke junior parkrun. As an enthusiastic runner and big fan of parkrun (the more established, free, weekly timed 5km run for all ages), I was very excited to be involved in the Bristol debut of the newer junior events for four- to fourteen-year-olds, which was ostensibly about getting children interested in running, but turned out to be so much more.
The process is simple enough: having signed up for free on the parkrun website and printed their personal barcode, runners turn up at Little Stoke Park shortly before 9am on Sunday, listen to the run briefing, take part in a short, fun warm-up routine, run a lap and a bit of the park, then have their barcode and finish token scanned so that the results can be processed and published later. Colourful wristbands are awarded for completing 11, 21 and 50 events, representing the distances of half-marathon, marathon and ultra marathon.
A run, not a race
It's what happens around all this that makes it magical. A buzz builds as families start to arrive, just as the volunteer team is making the finishing touches to the course. Friendships are renewed and new ones made; some have even come along just for this social side and don't actually plan to run at all!
Runners have loads of fun either flying round as fast as they can to beat their best time, or just sauntering, picking daisies or playing as they go. Parents are amazed and proud week after week at how far their children can run, or how fast they complete the course, or how they go back to cheer on their friends as they approach the finish line. Some parents run with their children, and are often surprised to find themselves enjoying running, so much so they might even take it up themselves. This is the magic of parkrun – a run, not a race, which is accessible (in all senses of the word) to all, regardless of ability.
When Little Stoke juniors started in June 2014, there were only fifteen other weekly junior parkrun events; one year later, there are fifty, located up and down the country, together providing free, timed runs for over 5,000 young runners every week. As impressive as this is already, it is all the more so when you consider it is run completely by volunteers.
Local volunteer team
Each week at Little Stoke juniors, one of our core volunteer team of seven DBS-checked Run Directors takes their turn looking after the event. They assemble a team of twenty from those who put themselves forward, to man the stopwatches and barcode scanners, hand out finish tokens, and ensure that every inch of the course can be seen by a marshal, making it safe for children as young as four to run on their own. Those who have tried volunteering find it immensely rewarding, and end up coming back over and over again; after twenty five stints, a special volunteer t-shirt is awarded to wear with pride. Children, too, enjoy volunteering when they're not running, and we welcome them to have a go.
Such a simple idea, yet so many far-reaching benefits to the individuals and the community. Having just had our first anniversary on 28th June, do you know what the surprising thing I've learned is? Lie-ins are overrated!
If you would like more details, see our website at www.parkrun.org.uk/littlestoke-juniors. You can also find us on Facebook (Little Stoke junior parkrun) and Twitter (@littlestokejrs).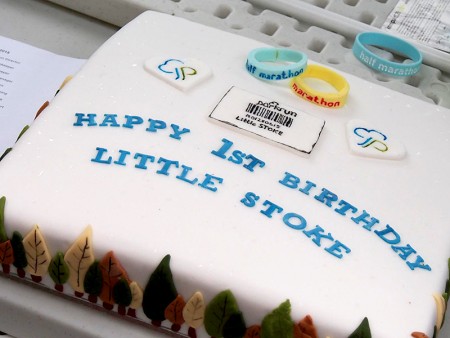 Photos (from top): Start of the first anniversary Little Stoke junior parkrun; post-event party; birthday cake. [Photos courtesy of Geoff Keogh.]
This article originally appeared in the July 2015 edition of the Bradley Stoke Journal news magazine, delivered FREE, EVERY MONTH, to 9,500 homes in Bradley Stoke, Little Stoke and Stoke Lodge. Phone 01454 300 400 to enquire about advertising or leaflet insertion.