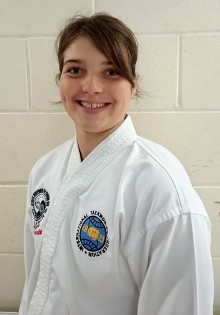 Stoke Gifford Taekwondo (TKD) student Phoebe Grandfield, 19, has been awarded the Bristol Young Sporting Hero title for 2016.
Phoebe was nominated by her tutors at SGS College and her instructor at Stoke Gifford TKD, Miss Kerry Burridge.
She has been training in taekwondo since the age of 5 and has faced many difficulties and obstacles including severe epilepsy, autism, ADHD and learning difficulties. Despite all of these, Phoebe has gone on to achieve a 3rd degree black belt in taekwondo as well as a place in the Team UK squad and a subsequent world bronze medal in 2014 and a European gold medal in 2015, in the power breaking discipline.
She was notified in February that she had made it through as a finalist and was then invited to the award evening that was held in the Wills Memorial Building in Bristol on Friday 1st April.
Phoebe was joined by her family, taekwondo instructor and friends from Stoke Gifford TKD.
The awards were preceded by a lovely dinner with over 200 other hopeful finalists, friends, family and celebrities.
Phoebe's category was the fifth one to be announced and, as with the other nominees, a short video was shown beforehand. Filmed in February, this showed Miss Burridge talking about Phoebe's achievements.
After all videos had been shown, it was Big Brother 2011 star Josie Gibson who announced and presented the award. Phoebe was both shocked and elated when her name was revealed as the winner!
A very excited Phoebe made her way to the stage to collect her award and give a brief speech, thanking the people who were important to her achieving so much and overcoming the obstacles that she faces.
Stoke Gifford TKD chief instructor Miss Burridge later commented:
"Stoke Gifford TKD are very proud of Phoebe's achievements at the club and we are so pleased that she has been rewarded for the high level of dedication and determination that she has shown for so many years in the face of some really tough challenges."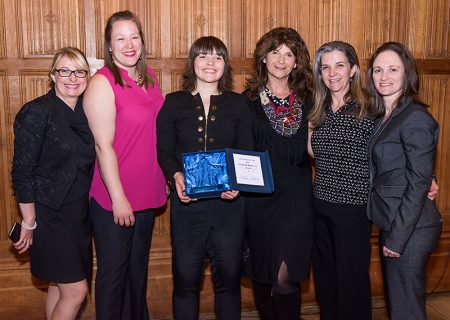 Photo: Phoebe Grandfield (third from left), with (from left) Alison May (SG TKD club secretary), Jenni Brown (training colleague), Vicky Grandfield (Phoebe's mum), Laura Robertshaw (training colleague) and Kerry Burridge (SG TKD club instructor).
This article originally appeared in the May 2016 edition of the Bradley Stoke Journal news magazine, delivered FREE, EVERY MONTH, to 9,500 homes in Bradley Stoke, Little Stoke and Stoke Lodge. Phone 01454 300 400 to enquire about advertising or leaflet insertion.