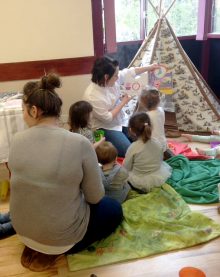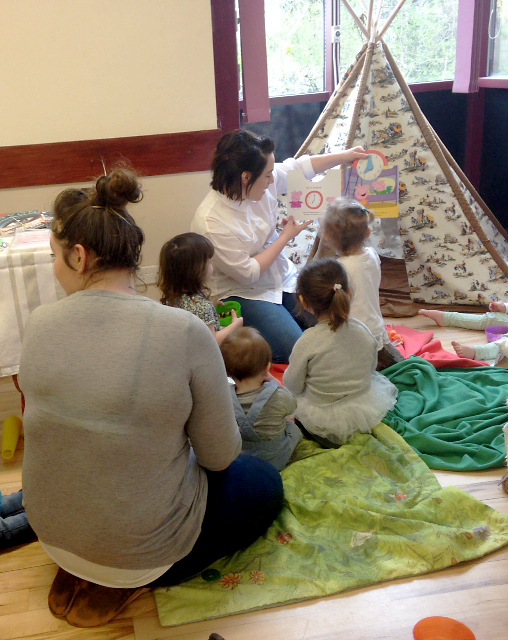 We visited Little Stoke Toddler Group, which runs on Fridays from 10am at Little Stoke Community Hall. The Hall has ample parking space and is located right next to Little Stoke Park. The group is currently led by four local mums: Laura Lowe, Lana Hodges, Laura McLingey and Lorna Melhuish. They took over the group in February this year, although the group itself is almost six years old (formerly called Babble Street).
We were greeted with a friendly welcome and an abundance of toys for toddlers. The room accommodates up to 35 children and is popular in the local community, with around 28 to 35 kids attending for most sessions. Lana told us that the group is insured for children up to 11 years old, but is aimed towards 0-4 year olds. Most of the children were between two and four, but there were also a few "regular" babies who meet in the baby corner, which has sensory toys suitable for 0-6 month olds. There is a book corner for little book lovers too.
The group begins with free play, after which they have a story and a healthy snack of fruit and cereals. At 11,30 they tidy up together, and end the session with a song and rhyme time at 11.45. They have a big parachute for the songs, which they choose in turns. Both children and grown-ups are allowed free drinks as part of their entry charge of £3, and there are extra snacks available to buy, such as cakes for 50p, toast for 30p and hot bacon rolls for £1.50. The mums also welcome two stall holders each week – these are usually local business specialising in creative crafts.
The group is non-profit and the mums who run it do so because they have a passion for the group. Laura said: "We were mums that came along before we took over the group." She added she would run it every day of the week if there was enough demand. The group might extend to an additional day, but at the moment runs only on Fridays. The organisers said they wanted "to let other parents and carers know they are welcome" so that more people can make friends and feel supported in the community, instead of feeling alone or isolated.
There is a big mix of people from different age groups and backgrounds, as well as a few dads, grandparents and childminders attending with little ones. One mum said: "I find it good. I came along with some friends and it gives us a chance to chat and the little ones can play together." A grandmother also told us she tried to "come most weeks".
More information: Little Stoke Toddler Group on Facebook
This article originally appeared in the June 2016 edition of the Bradley Stoke Journal news magazine, delivered FREE, EVERY MONTH, to 9,500 homes in Bradley Stoke, Little Stoke and Stoke Lodge. Phone 01454 300 400 to enquire about advertising or leaflet insertion.