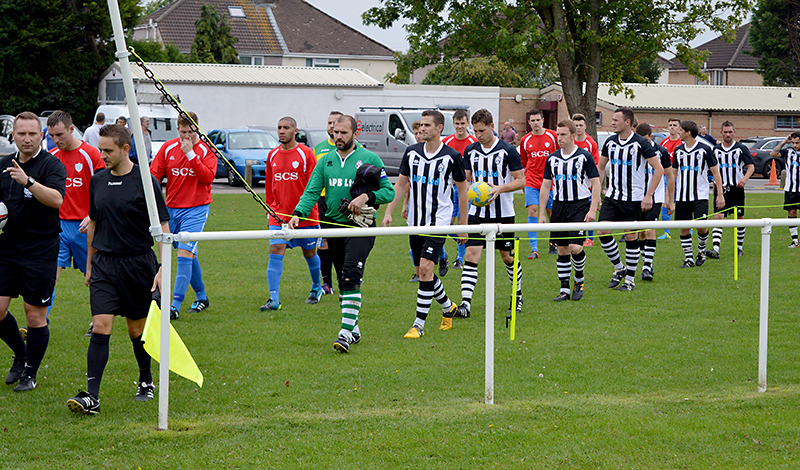 Following a great deal of hard work behind the scenes, Little Stoke FC were invited to join the Gloucestershire County League for the 2016/17 season and played their first home game at Little Stoke Park on Saturday 27th August.
Prerequisites for acceptance into the league included the installation of pitch perimeter barriers and trainers' boxes (dugouts) for the home and away teams, and the provision of separate changing facilities for match officials.
Funding for the ground improvements came from housebuilder 'S106' contributions arising from the Charlton Hayes development, but much of the labour was provided free of charge by club members.
In their first home game, the team were held to a 0-0 draw by visitors Frampton United. Their first league win came a week later when they won 2-1 away to Gala Wilton. The next home game, on 10th September, saw a sizeable crowd turn out at Little Stoke Park to watch a local derby match against Patchway Town, which the visitors edged 1-0.
First team manager Ashley Coles said:
"I would like to thank all the club members who, collectively, have put in an enormous amount of work to ensure that the club's ground could qualify for county league standard".

"On behalf of the club, I would also like to thank Stoke Gifford Parish Council for all the support they have given us in this project, both financially and through the help offered by their staff."

"The club is pleased to hear that the parish council has announced plans to extend Little Stoke Community Hall, including the provision of new changing facilities and a café, which will further enhance Little Stoke Park as a venue for county league football."
• For news and fixtures visit www.littlestokefootballclub.co.uk or find 'Little Stoke Football Club' on Facebook.
Photos: 1 Little Stoke FC players (black and white strip) walk out for their first home game in the Gloucestershire County League, against Frampton United, on Saturday 27th August 2016. 2 Crowd at the match between Little Stoke FC and Patchway Town on 10th September 2016.
This article originally appeared in the September 2016 edition of the Bradley Stoke Journal news magazine, delivered FREE, EVERY MONTH, to 9,500 homes in Bradley Stoke, Little Stoke and Stoke Lodge. Phone 01454 300 400 to enquire about advertising or leaflet insertion.