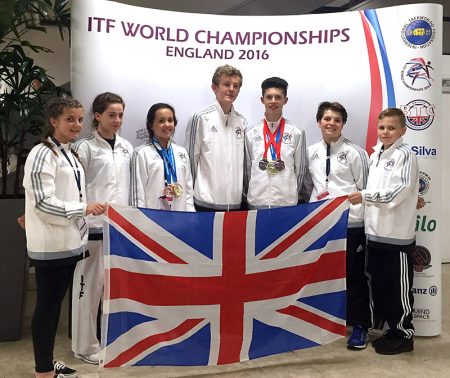 Stoke Gifford Taekwon-do were triumphant at the recent ITF World Championships held in Brighton.
Six members of the club were selected to represent Team UK at the Championships, which were held at the end of July. There were over 39 countries participating in the Worlds, from all continents, which totalled to over 500 competitors.
William Lambern who lives in Stoke Gifford, performed excellently in his first outing at an international championships against some really superb competition from Ireland and Australia, but was unable to get into a medal position.
Esme McCarthy also from Stoke Gifford, came up against some equally tough competition from Canada, Argentina and two Australians in the patterns category but rose to the challenge and was elated to come away with the first place World Champion title! She also had a tough draw in the sparring, as she was moved up to the heavier weight category. She put up a great fight to beat Canada in the first round but was beaten in the next round by Ireland – however this was enough to get her a well deserved bronze.
Lucie Robertshaw was also making her international debut and had a tough decision in her first round patterns draw against Argentina. This did not deter her though, and she went on to put in a fantastic effort against some really mature, tall girls in the special technique division. All her extra practice had paid off and she was rewarded with a well deserved World silver medal for her efforts.
Phoebe Grandfield performed some strong patterns in her category and got through one round against Ireland only to be stopped by an Australian. She also put in a solid performance in the power breaking but was unable to do her usual smashing of boards, so did not place in the medals, but gained a huge amount of experience.
Callum Brown, who has just started at SGS College, had a great sparring competition, beating his first opponent from Malaysia. He then put in a really solid performance against the eventual winner from Greece and narrowly lost, but came away with the souvenir of a very bruised nose! No medal but a really super experience for him.
Emily Oakes, who lives in Cheshire but travels to Bristol every weekend to train with Stoke Gifford Taekwon-do, had a fantastic competition performing against some tough competition from Australia, Canada, Czech Republic and USA in the patterns to come away with a World Championship title, a superb and emotional achievement for her. She then showed that one World Championship medal was not enough for her and outclassed her way through three tough Argentineans to earn her second World Championship title!
In addition to these momentous titles, Emily picked up another gold and three silvers in the team events. Twelve competitors from the club then entered the International Open and won five bronze, two silvers and one gold.
Club instructor Miss Burridge couldn't have been more proud of the competitors from the club:
"It takes a huge amount of courage and confidence to step onto the mat. Each and every one of them did themselves, the club and Team UK proud"
The competitors are now working hard for the UK National Championships to be held in October, which will be the first step on the ladder in the quest for selection for the next World Championships that will be held in Argentina in 2018.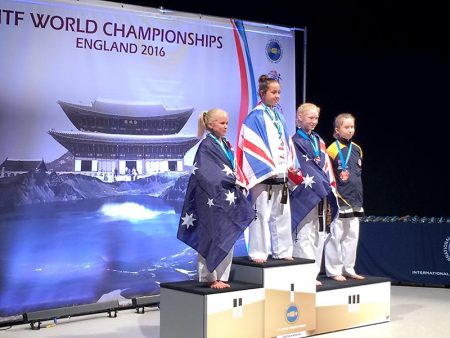 Photos: 1 The UK ITF Bristol team at the 2016 ITF World Championships (l-r): Lucie Robertshaw (silver medallist), Emily Oakes (double world champion), Esme McCarthy (world champion & bronze medallist), Callum Brown, Joel Cassar (Fishponds TKD, world champion), Phoebe Grandfield and William Lambern. 2 Esme McCarthy, gold medal winner in 1st Degree Patterns.
This article originally appeared in the October 2016 edition of the Bradley Stoke Journal news magazine, delivered FREE, EVERY MONTH, to 9,500 homes in Bradley Stoke, Little Stoke and Stoke Lodge. Phone 01454 300 400 to enquire about advertising or leaflet insertion.