Posted on Tuesday 7th November 2017 at 9:47 pm by Laura Mortimore
The St Mike's Yarn Bombers (SMYB) are back! Having spent the last few months busily knitting and crocheting, they are planning a big surprise for Remembrance Day!
After recent successful yarn bombings, including three local primary schools and 'Missing Sheep' at the St Michael's church weekend, the group are working on something new: The Poppy Project. Members of the SMYB began knitting and crocheting different poppy patterns back in August, to create as many poppies as possible in readiness for their display.
The SMYB was founded in February 2016 by Kia Harris and Debbie Bambridge who describe the yarn bombers as "a group of like-minded crochet and knitting lovers who want to spread a little woollen love around St Michael's Church and the Stoke Gifford community". When their bright and colourful displays appear overnight, they bring to Stoke Gifford a sense of joy, and a smile to people's faces as they walk through the village.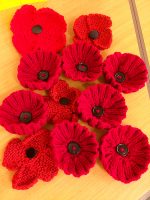 The current project has attracted many new members, with the group now having 10 to 15 people working on their poppies. Currently, the knitters are expecting to have hundreds of poppies, made using different knit and crochet patterns in different shades of red, to create their spectacular display which will be appearing on The Green outside the St Michael's Centre sometime in the week commencing 5th November. This is in preparation for the Stoke Gifford Remembrance Day service which takes place on The Green on Sunday 12th November. The area will be decorated with the poppies for approximately two weeks allowing time for members of the local community to enjoy the exhibition.
If anyone would like to find out more or get involved with the SMYB, please get in touch by emailing S.M.Y.B@outlook.com or by visiting their Facebook page.
The group plan on meeting together once a month in The Old School Rooms, details of which will soon be announced on their Facebook page. They will also be running a stall at the St Michael's Christmas fair, where any profits raised will go to The Heart of the Community Project. To find out more about this charitable cause, please visit www.stmichaelsbristol.org/heart/
And don't forget to keep an eye out for any more woollen surprises that might pop up around Stoke Gifford!
This article originally appeared in the November 2017 issue of the Bradley Stoke Journal news magazine (on page 34). The magazine is delivered FREE, EVERY MONTH, to 9,500 homes in Bradley Stoke, Little Stoke and Stoke Lodge. Phone 01454 300 400 to enquire about advertising or leaflet insertion.
Share this article:
Tags: SMYB, yarn bombing