Posted on Wednesday 29th November 2017 at 11:55 pm by Laura Mortimore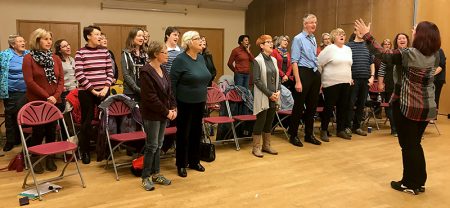 The Gospel Generation Community Choir (GGCC) have supported Christian band Treasure Field during their concert held in the St Michael's auditorium in Stoke Gifford on 18th November.
The GGCC are a voluntarily run choir, which began about 15 years ago with just one choir, and now have four different choirs across Bristol (Stoke Gifford, Thornbury, Shirehampton and Easton). The four choirs meet at their separate locations for an 8-10 week term and then bring together their 90-100 members at the end to perform as one large choir. This term, they have ended their rehearsals with an incredible concert, supporting Treasure Field during their winter tour.
Emma Smallwood, leader of the Stoke Gifford choir told me how she was feeling in the week leading up to the concert:  "I'm feeling really confident. The songs are sounding great and I think the choir is really going to enjoy singing them."
The concert was a huge success, taking place on Saturday 18th November in the auditorium at the St Michael's centre. The GGCC had a half-hour slot at the start of the concert in which they sang four songs, perfectly harmonising the sopranos, tenors and altos. The choir were especially proud of their performance of 'Praise Waiteth', which was one of the more difficult songs in their set. It took them a long time to bring the different harmonies together, but the result sounded stunning.
They also sang with the band, a beautiful mix of the well-known 'Silent Night', which was a hit with the 200 strong audience. Treasure Field were grateful for the support of the GGCC, posting on Facebook: "Big shout out to the Gospel Generation Community Choir as well who were totally brilliant." Even the fire alarm going off during Treasure Field's final number didn't stop anyone from enjoying the show!
Talking to me after the concert, Emma described it as a huge success:
"The choir were brilliant! They gave me big smiles when I asked and put lots of energy into the performance; not easy when you're nervous. There was a great atmosphere the whole night, people had come out on a dark November evening but came expectant of a good night … and they got one".
Angela Mortimore, member of the GGCC, stated that "Treasure Field were really good, they are excellent musicians and singers. The choir's performance was so uplifting. We enjoyed performing our gospel songs and I would encourage people to join us at rehearsals as they always have the feel good factor".
If you would like to see the GGCC in action, they still have three concerts remaining this month:
Saturday 9

th

 December 7.30pm – Go Tell It! Concert at Zion United Church in Frampton Cotterell.
Friday 15th

 

 December 12:30-3.30pm – Carol singing for One25 Christmas event at the Grosvenor Centre, Bristol.
Sunday 17

th

 December 8.00pm – Supporting the London Community Gospel Choir at the Spiegeltent, Bristol.
The GGCC rehearsals return after Christmas on Tuesday 9th January and run fortnightly from 7.30pm to 9.15pm in the St Michael's Centre. If you would like to join the choir or would like more information, please visit their website (www.ggcc.org.uk/), visit their Facebook page (www.facebook.com/ggccbristol/) or contact Emma on Gospelgen@googlemail.com.
Photos: 1 GGCC at rehearsals on 14th November. 2 Treasure Field concert on 18th November.
Share this article:
Tags: choir, Gospel Generation Community Choir, St Michael's Church