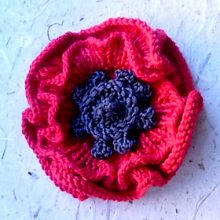 The Stoke Gifford branch of the Royal British Legion (RBL) is looking to recruit more people to knit the famous red flower in readiness for this year's Poppy Appeal.
Each year, members of the RBL and other volunteers, set up stalls to raise money for their welfare fund. This originally started with the sale of the paper poppies and a pin but has now grown to include brooches, bracelets, hair clips, keyrings and, of course, the knitted poppies. Due to the popularity of the knitted poppies, the RBL needs the help of the local community in order to make enough in time for the  next Poppy Appeal.
David Bell, press officer at the Stoke Gifford branch of the RBL, spoke of the need for more knitters:
"The branch is very keen to recruit more people to knit the famous knitted Poppies for the Poppy Appeal. The knitted poppies are very popular and raise much money for the Poppy Appeal, and the Branch can't keep up with demand! There is no pressure to knit a certain number, any amount you can do will greatly help."
By becoming a poppy knitter, you can also be a part of the work that the RBL do every year. If you are interested, please contact the branch at its email address: rblstokegifford@gmail.com or by telephone on 07802 535591.
The Royal British Legion's welfare fund (for which money raised from the sale of the poppies goes to) is used to give support and help to current and ex service personnel and their families. They provide information, advice and guidance to serving members of the Royal Navy, British Army, Royal Air Force and Reservists, all year round. In addition to this, the Legion provides lifelong support for veterans and their families, enabling them to live in comfort and with dignity.
If you, or someone you know, needs help from the Royal British Legion please contact the RBL national helpline on 0808 802 8080.
The Stoke Gifford branch also has its own Facebook Page which you can follow, like and share: www.facebook.com/StokeGiffordRBL
This article originally appeared in the March 2018 issue of the Bradley Stoke Journal news magazine (on page 10). The magazine is delivered FREE, EVERY MONTH, to 9,200 homes in Bradley Stoke and Little Stoke. Phone 01454 300 400 to enquire about advertising or leaflet insertion.