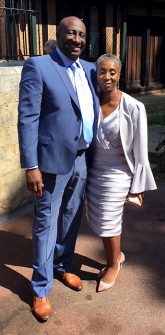 While millions of people switched on their televisions to watch Prince Harry and Meghan Markle tie the knot on Saturday 19th May, Vernon and Kim Samuels from Stoke Gifford had the honour of being part of the gospel choir that sang at the wedding.
The Kingdom Choir, led by Kim's sister Karen Gibson, sang a beautiful rendition of 'Stand By Me' during Prince Harry and Meghan's service. Having a gospel choir sing at the wedding was, in fact, the idea of future king, Prince Charles, and the Kingdom Choir were sought out about two months prior to the big day. They then had to keep their involvement in the wedding quiet, so it was quite a shock for their friends and family when they spotted them singing in the chapel!
Speaking to us about the lead up to the wedding, Kim said:
"It was a little bit like being in a dream. It took a while to believe that it was actually happening. In fact, it wasn't until we arrived at St George's Chapel in Windsor on the Thursday evening before the wedding that I allowed myself to believe that we were really going to be singing at the royal wedding! In the days leading up to the wedding it was all about preparation – spiritual, mental and physical preparation​."
As the Kingdom Choir is based in London, the majority of the members are from that area. In fact, Vernon and Kim were the only ones to sing who live outside of London. This did mean that preparing for the wedding proved quite difficult as they only had the opportunity to have two or three rehearsals. Having such a small amount of time to prepare made their performance even more impressive as they also sang a cover of Etta James' medley of 'Amen' and 'This Little Light of Mine'. These were sung right at the end of the ceremony by which time the royal couple had moved out of the chapel onto the steps.
The day of Prince Harry and Meghan Markle's wedding will be remembered by millions of people worldwide for many different reasons, including the dress, the flowers and the nuptials. However, for Vernon and Kim they will remember that they "were a part of history and our contribution to the royal wedding will last forever."
To listen to the choir singing their rendition of 'Stand By Me', visit @thekingdomchoir on Twitter. Their performance is also included on 'The Royal Wedding – The Official Album'.
Photos: 1 Vernon and Kim Samuels at Windsor Castle. 2 The Kingdom Choir outside St George's Chapel.
This article originally appeared in the June 2018 issue of the Bradley Stoke Journal news magazine (on page 17). The magazine is delivered FREE, EVERY MONTH, to ALL 8,700 homes in Bradley Stoke. Phone 01454 300 400 to enquire about advertising or leaflet insertion.