Posted on Sunday 9th June 2019 at 5:18 pm by SH (Editor)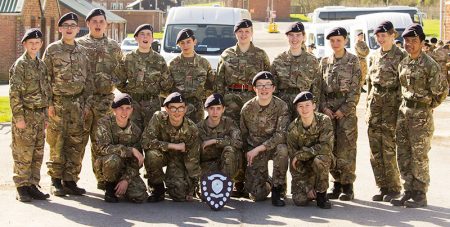 The Stoke Gifford Detachment of the Bristol Army Cadet Force (ACF) recently competed in the B Company Bristol ACF Annual Inter-Detachment Drill Competition. The competition, which was held during their Company Navigation Weekend Camp in March, took place at Knook Camp on Salisbury Plain Training Area.
B Company Navigation weekend is traditionally the first of four weekend camps of the year, normally held in the spring. The weekend consists of various Training and Testing opportunities for the Cadets, in numerous subjects as part of their Army Proficiency Certificate Syllabus, including Military Knowledge, First Aid, Navigation, Drill and Turnout. All Cadets have to undergo these Training and Testing weekends to enable them to pass their Subject Tests and achieve their Star Level.
The Cadets arrived on Friday evening and the first job was to organise them into their relevant Star Levels, from Basic Cadets to Inexperienced Cadets, 1 Star, 2 Star, 3 Star and finally 4 Star who are the most senior and experienced Cadets. Allocation of accommodation and camp brief was shortly followed by bed as the Cadets were facing an early start the next day.
Saturday was a busy day for everyone, with adults and Senior Cadets all ready to deliver their lessons on numerous subjects to the Cadets, with the main priority being Navigation, as later in the day all Cadets participated in a Navigation Exercise where they were assessed on their navigation skills relating to their Star level.
Sunday arrived and the excitement for the Drill Competition was clear, with all Detachments going through their final preparations. The Drill Competition consisted of a Turnout Inspection by the Company Sergeant Major (CSM) where the Cadets' uniforms are inspected. This was followed by a pre-planned routine of various drill movements, including marching and turns, which each Detachment must complete, with the loss of ½ point for each error made. Drill requires the Cadets to be disciplined and to work as a team, which requires weeks, if not months, of training.
Stoke Gifford Detachment had won the Drill Competition for the last two years, so were hoping to make it a hat-trick of wins. Stoke Gifford Detachment Commander, Staff Sergeant Clark (Stokie) said: "All the other Detachments are more determined than ever this year to beat us as we have won it for the last two years, but we're not going to give up this trophy without a fight."
As the inspections finished and each Detachment started their routine, you could see the determination on all the Cadets' faces. The penultimate Detachment took to the drill square – it was our biggest and probably closest rivals Horfield Detachment, with the added rivalry of Staff Sergeant Clark's son, Cadet CSM Clark and wife Sgt Clark being members of the Horfield Detachment. A good routine was performed by Horfield which meant Stokie needed to perform to the highest standard to bring the trophy home. Stokie took to the Drill Square and produced an almost faultless display of Drill dropping only 2½ pts overall. The final results spoke for themselves: Stoke Gifford Detachment 22½ pts from a maximum 25pts with Horfield in 2nd a further 6pts behind on 16½ pts. Stoke Gifford Detachment had won the Drill Competition for an unprecedented third time in a row!
SSI Clark said: "I am absolutely over the moon, the Cadets were brilliant out there today, they should be very proud of themselves. It was probably one of the best Drill routines I have ever seen, the Cadets deserve it, they worked so hard over the last couple of weeks."
Cdt Shannon O'Callaghan collected the Winner's Shield on behalf of the Detachment, as this was her last camp with the Detachment before she leaves for the sunnier climate of Cyprus with her family, where she will carry on in the Army Cadets, a very fitting way to end her Stoke Gifford Detachment Cadet career.
"She will be sorely missed as she is an excellent Cadet," added SSI Clark.
"If you're interested in joining Stoke Gifford Detachment ACF and are between the ages of 12 and 18yrs (and in at least Year 8 at school), come along and give it a try. We are actively recruiting all year round. Just come along to one of our Parade Nights."
Stoke Gifford Army Cadets
Tuesdays and Thursdays 19:00 – 21:30 hrs
Address: Ratcliffe Drive, Stoke Gifford, Bristol BS34 8UE
Tel: (HQ) 0117 986 3344
Tel: (Detachment Commander SSI Clark) 07825 326488
This article originally appeared in the May 2019 issue of the Stoke Gifford Journal magazine (on page 7). The magazine is delivered FREE, EVERY MONTH, to over 5,000 homes in Stoke Gifford, Little Stoke and Harry Stoke. Phone 01454 300 400 to enquire about advertising or leaflet insertion.
Share this article:
Tags: Army Cadet Force