Posted on Tuesday 18th June 2019 at 7:17 pm by SH (Editor)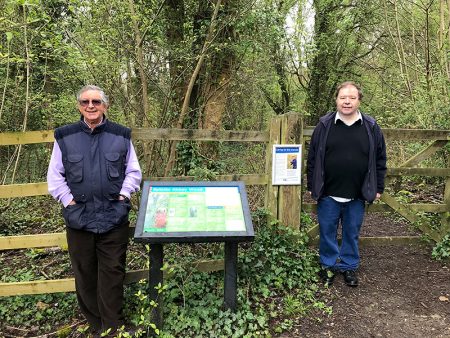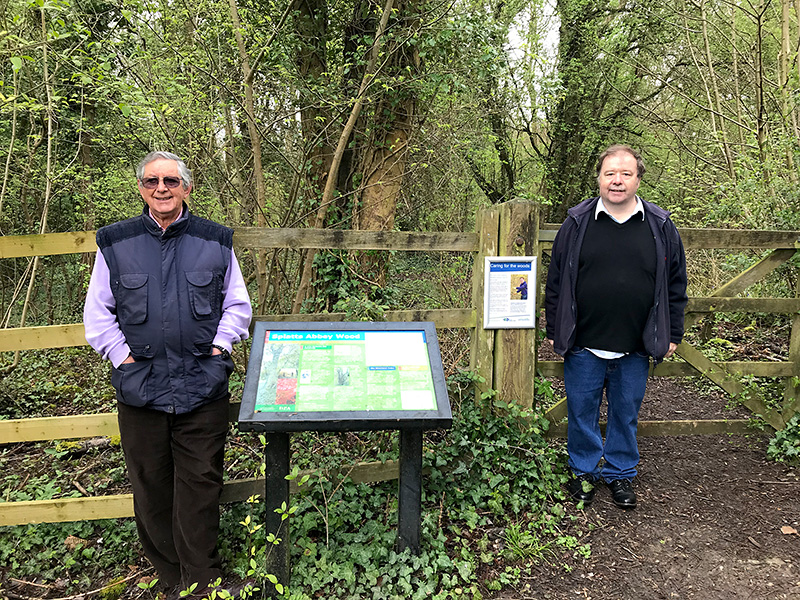 As the weather is starting to warm up and the summer months are approaching, Splatts Abbey Wood offers members of the community a local beauty spot that is right on the doorstep of Stoke Gifford. Located next to the Woodpecker's Nursery at the MOD, it is easily accessible by car, bus or even following the cycle paths from Stoke Gifford.
Although Splatts is only a small woodland area, it offers residents the chance to see local fauna and wildlife that is free and easy to access. It is split into three different sections; the original wood, the ride and the new plantation. In each of these areas, you will find different species of trees as well as a variety of different birds and other animals.
The original wood
This is the largest part of the wood and it is here that you will predominantly find hazel trees, along with hawthorn, elm, ash, oak, rose and holly. The trees in this area have been dated to be about 150 years old. As well as the variety of trees, there are also many plants that cover the ground, such as dog's mercury and ivy. During the spring, before the canopy closes over, you can also find patches of bluebells, red campion, yellow archangel and wood anemone. Some of these woodland flowers take a long time to establish, meaning their presence indicates an ancient wood (i.e. over 400 years old).
The ride
Instead of trees, here you will find grasses, thistles, vetches, and willow herbs. Because the vegetation is not tall enough to hide the skies, sunlight can reach the ground here even during the summer meaning flowers can bloom freely. These provide nectar for butterflies and other insects, so this place can feel far more alive than the wood during the summer months. Look out for butterflies, such as speckled wood and gatekeeper, which inhabit woodland edges.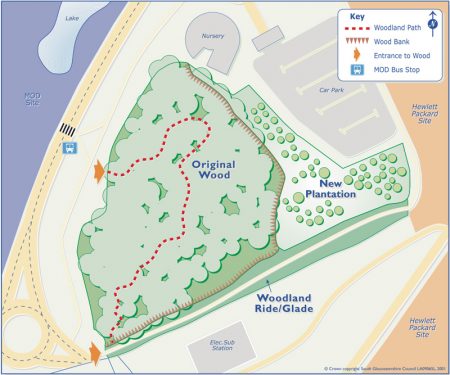 Image: Map of Splatts Abbey Wood. [Click to enlarge]
The new plantation
This area of the wood is home to species of trees that grow naturally in our woodlands and hedges and have done so for many millennia. In Splatts wood, these species include oak, ash, hazel, field maple, wild privet, hawthorn and guelder rose. These are the plants that our native animals are designed to eat and use, which makes this woodland valuable to wildlife as it supports a greater number of creatures.
Animals
If you are interested in wildlife then you may be lucky enough to spot a variety of animals in Splatts wood. Many small creatures, such as grey squirrels, voles and wood mice feast on the hazelnuts that can be found in the wood. Small birds such as finches, titmice, warblers, robins, wrens, blackbirds and dunnocks dwell here as well as larger birds such as magpies, wood pigeons and green woodpeckers. Little owls and tawny owls have been reported and a pair of sparrowhawks also find the wood to their liking, taking their food from the flocks of smaller birds that inhabit the area. There have even been sightings of deer wandering through the woods on occasion.
Conservation group
Splatts Abbey Wood Conservation Group has a small committee made up of a number of local residents as well as representatives from the University of the West of England's (UWE's) student group Greenspace and the Students' Union. Greenspace does most of the practical work at Splatts, such as clearing debris and picking up litter; they have also done work at other local woodlands. There are also a couple of members from local parish and town councils.
The current committee members include David Bell, Fred Hillberg and Andy Ward, however, they are always looking for new volunteers to join the group. Becoming a member of the conservation group could take up as little (or as much!) time as you like, whether you would like to just attend committee meetings or get more involved with the practical side of caring for the wood.
The passion and commitment that the conservation group has for the wood is clearly shown by the amount of time that they spend ensuring the wood is preserved. Talking about Splatts Wood, Fred said:
"Splatts is the last remaining part of what was once an ancient forest which would have connected to the Royal Forest of Kingswood and beyond. In modern times the wood would have been larger than we see it today and I think we have a duty to preserve this part of our heritage for today's generation to enjoy. It's a small oasis in a very built up area, let us try, with the help of volunteers, to keep it and maintain it."
If joining the conservation group is something you feel you might be interested in, you can contact David, Fred or Andy at splattsabw@gmail.com. They also have a website: splattsabbeywood.org.uk
• View the location of Splatts Abbey Wood on Google Maps
Photos: 1 Conservation group members Fred Hillberg (left) and David Bell at the entrance to the wood. 2 UWE Greenspace members with ecologist Rupert Higgins. 3 Fungi growing in the wood. 4 A child having fun exploring in the wood.
This article originally appeared in the May 2019 issue of the Stoke Gifford Journal magazine (on pages 8 & 9). The magazine is delivered FREE, EVERY MONTH, to over 5,000 homes in Stoke Gifford, Little Stoke and Harry Stoke. Phone 01454 300 400 to enquire about advertising or leaflet insertion.
Share this article:
Tags: Splatts Abbey Wood