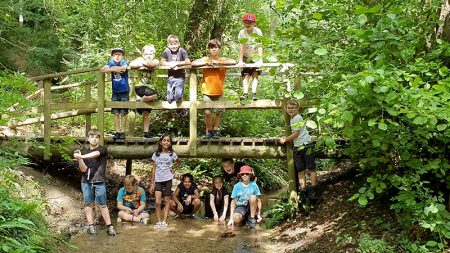 The first week of the summer holidays saw the 1st Little Stoke Scouts and Cubs set off for camp at Cranham Scout Camp in Gloucester. Despite arriving at camp in the rain, the Scouts and Cubs were all in high spirits setting up camp, showing brilliant organisational and leadership skills to ensure all the tents, equipment and food were stored safely.
Once camp was set up, the children all enjoyed playing team games, including the Scouting favourite the 'stick game'. This involves standing in a circle passing upright sticks around by moving in the correct direction. A simple but tricky game, which resulted in bonds forming between the Scouts and Cubs and laughter from all. An epic 'wide game' of French versus British spies, which translated into the Scouts chasing the Cubs was also a highlight for many.
The cooking on the camp was of Masterchef standards, from bread making, to Dutch ovens full of pork and apple casserole, roast gammon in coke and caramel apples.
Lots of new experiences and skills developed for the Cubs and Scouts – from pioneering, which involved them building see-saws, A-frames, and washing-up stands to dam building to control a water flow.
The Cubs may have only stayed for a long weekend, but they certainly packed a lot in; tunnelling, dam building, mini boat building and racing, wide games and obstacle courses. Rocco, a new Cub on his first official camp as a Cub said: "Thank you for an awesome weekend, although at times I wasn't sure of all the activities, I absolutely loved it. It was a wonderful experience."
After the Cubs left, the Scouts and leaders commented that everything seemed a little quieter, but they had no time to stop as there were plenty more activities still to enjoy. The Scouts enjoyed a day out in Gloucester, enjoying the steam train ride and were lucky to have a whole carriage to themselves.
Back on site, we saw a fiercely fought contest in the archery and pistol shooting. Ashley proved to be the top pistol shooter hitting the bullseye and centre rings with every shot!
All too soon the camp reached an end. Happy but tired Scouts and leaders broke camp, packed bags, and said their goodbyes. Sadly, it was the final camp for seven of the older Scouts who now move on to Explorers. Their cheerful attitude and positive nature will definitely be missed.
As one camp ends, another is getting ready to start. Gemma Oram is busy planning another Beaver camp for the start of October, this time under canvas.
• If you would like any more information on getting involved with 1st Little Stoke Scout Group, please contact group Scout leader Tony Edmonds on 07957 880503 or email tonyedmonds108@yahoo.com
This article originally appeared in the September 2019 issue of the Stoke Gifford Journal magazine (on page 22). The magazine is delivered FREE, EVERY MONTH, to over 5,000 homes in Stoke Gifford, Little Stoke and Harry Stoke. Phone 01454 300 400 to enquire about advertising or leaflet insertion.