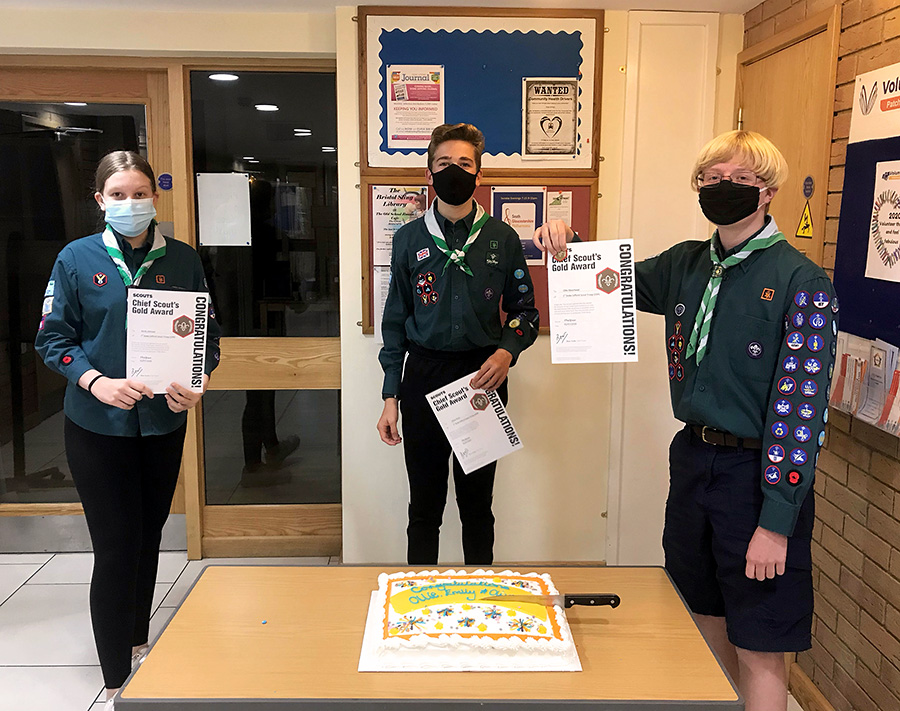 By Andrew Phelps, 1st Stoke Gifford Scouts.
As of early October, the Beavers, Cubs and Scouts of 1st Stoke Gifford Scout Group have finally been able to meet up face to face again. Since lockdown, many of the sections have been working hard to keep the young members involved in Scouting, but there's nothing like meeting up in person.
The Old School Rooms (OSR) Scouts, having completed 30+ Zoom sessions, weekly challenges and 'camping at home' had their risk assessments signed off to meet up and took the opportunity to hike across to Wales and back across the Severn Bridge. This exercise took place in three groups of no more than 15 Scouts, with up to three leaders per group. Having 41 Scouts in the troop has made logistics difficult, but 'socially distanced' outside and with masks worn inside, they've prepared a programme to cover sections of the Scouts' Gold Challenge Award.
The Old School Rooms have helped facilitate the three groups meeting back up in the building and supplied anti-bacterial and alcohol-based materials and a clean space to set up in. A great big 'thank you' for all their help and support.
This has been a difficult time over lockdown but all the hard work behind the scenes has got us all back together. The OSR Scouts have planned all the way up to Christmas, learning all about how good it is to have a healthy diet, get lots of sleep and keep fit, plus, on the flip side, how bad it is for our young bodies to get involved in alcohol, drugs and tobacco. The programme will also include Scouting skills and Christmas crafts.
The best bit is just being all back together and seeing that all the Scouts have grown so much. Their smiles and excitement at being back is contagious. The hike across into Wales and back to Aust Services was a great icebreaker and a chance to for them to get used to their new groups.
Being back inside the hall meant face masks, hand gels and social distancing, but we managed, and the Scouts' parents will be overjoyed at all the badges they have to sew on after all the things we did on Zoom from April to October.
Chief Scout's Awards
During the first session back we presented Ollie, Oliver and Emily with their Gold Chief Scout's Awards and marked the occasion with a socially distanced cake cutting. The rest of the troop loved the cake! We also invested three new Scouts into the troop: Riley, Amy and Aniela.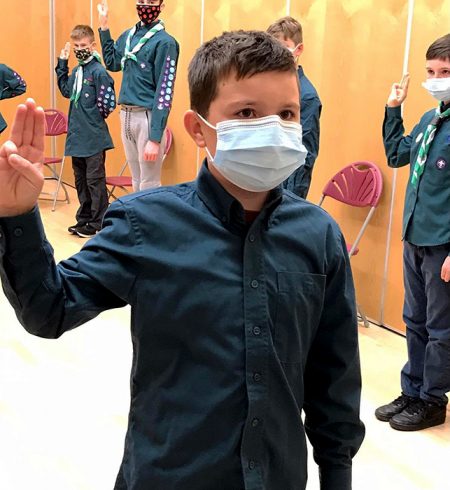 It's tricky finding games that involve no contact, especially when that's the bit the Scouts enjoy the most, but some of the games they used to play in Beavers and Cubs are a great alternative. Week 1: Splat!
Our emergency personal protective equipment (PPE) was kindly donated by Kathryn from lashsparkleshine.com in Stoke Gifford. Thank you, Kathryn!
Let's hope another lockdown doesn't come too soon and spoil all our fun.
This article originally appeared in the November/December 2020 issue of the Stoke Gifford Journal magazine (on pages 26 & 27). The magazine is delivered FREE, nine times a year, to over 5,000 homes in Stoke Gifford, Little Stoke and Harry Stoke. Phone 01454 300 400 to enquire about advertising or leaflet insertion.
---
Editor's note
Added 16th November 2020.
The above article was written prior to a new coronavirus lockdown coming into effect in England on Thursday 5th November 2020.