There has certainly been a lot of activity in the first month of the new minister's arrival at Little Stoke Baptist Church on Kingsway. Rev. Tania Vaughan says:
"In this first month I think the thing I have heard most from the community has been, 'I didn't realise the building was open!'"
Well that's changing already.
In just a month, more people have been attending the free coffee morning every Thursday 10am-noon to enjoy drinks, chat, crafts and jigsaws, but also to browse the ever-changing table-top sale items which are available for any donation amount.
The car park has been spruced up with some new planting to add a bit of colour and make it more appealing to the many people who walk through it. This is just the start of a plan to make community gardening accessible to all. As a first step, the parish council has handed over the care of the planters at the entrance to Little Stoke Community Hall.
More information can be found in the Facebook group 'Little Stoke Growing Community'.
On 5th September the church hosted its first free community event, Build a Bug House, which included the community being involved in the weeks before collecting material and then helping to build it. Also available were bug-related crafts, games, cakes and refreshments. The next free community event will happen at the end of October. The best way to keep up to date is on the church's Facebook page.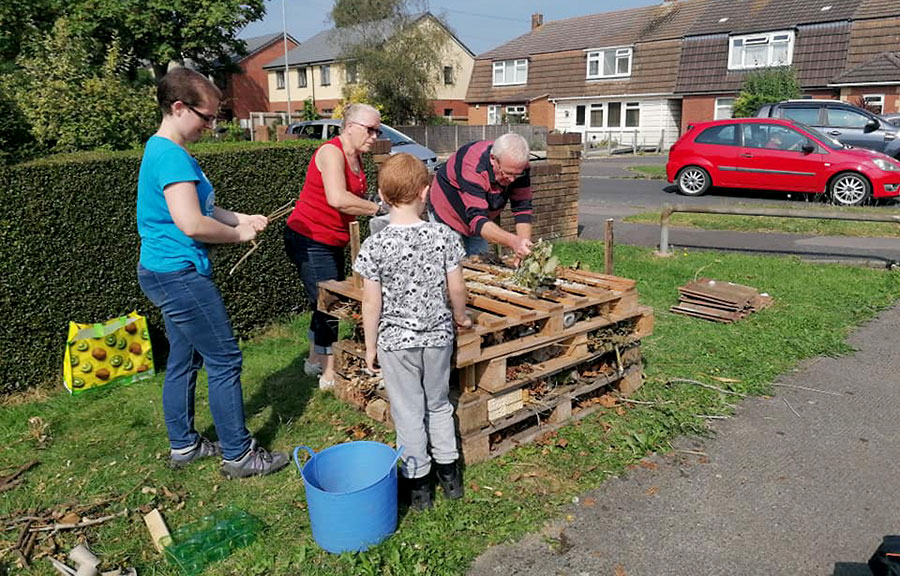 With a brand-new website (www.littlestokebaptist.org), an engaging social media presence and the growing popularity of our coffee morning, it can certainly be said that Little Stoke Baptist Church has opened its doors.
The church, however, is not just a social enterprise. Rev. Tania says:
"Jesus told his followers to 'love your neighbour'. In everything we do as a church we want to open our hearts to all and show the amazing love of Jesus to those who need it most. Jesus invites everyone to 'come and see', and that is our invitation too."
This article originally appeared in the September 2021 issue of the Stoke Gifford Journal magazine (on pages 18 & 19). The magazine is delivered FREE, nine times a year, to over 5,000 homes in Stoke Gifford, Little Stoke and Harry Stoke. Phone 01454 300 400 to enquire about advertising or leaflet insertion.