Posted on Saturday 14th March 2020 at 9:58 pm by SH (Editor)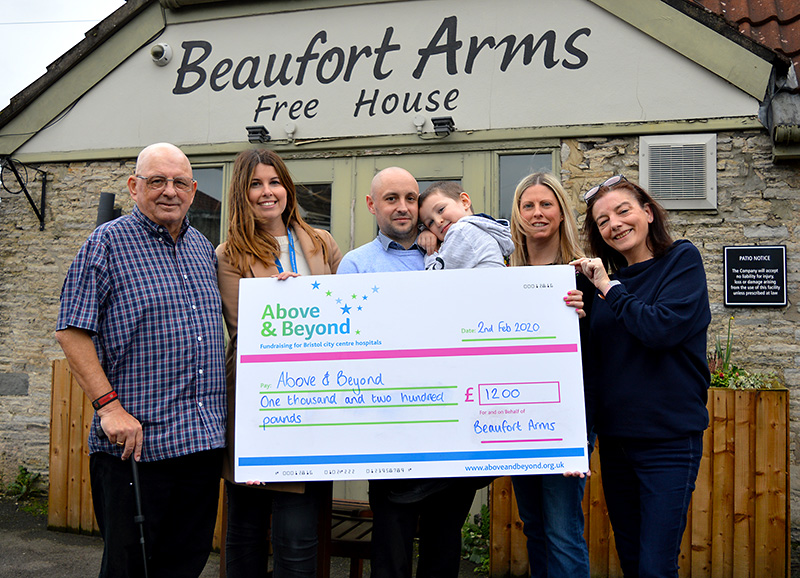 Patrons of Stoke Gifford's Beaufort Arms public house have made another generous donation to Above & Beyond, the fundraising charity which supports Bristol's city centre hospitals.
Their latest contribution of £1,200 has been specifically designated to assist in the support of children undergoing treatment for cleft lip and palate, a congenital abnormality very familiar to the pub's general manager, Jim Carey, whose son Joseph was born with the condition.
Now aged 5, Joseph had to undergo corrective surgery on his lip when just 5 months old, followed by an operation on his palate five months later. Further operations are planned for when he is between 8 and 10 years old, including one in which a bone graft will be taken from his hip.
Above: Joseph as a baby and how he looks today following several rounds of corrective surgery.
Jim and his wife Gemma have received extensive support from the Cleft Lip and Palate Association (CLAPA), a charity working to improve the lives of people born with a cleft, and their families, in the UK.
CLAPA has advised the family on topics ranging from speech therapy to psychological support.
More: Money raised through weekly raffles and games »
Share this article:
Discussion is open - be the first to comment - click here to respond.