Magazine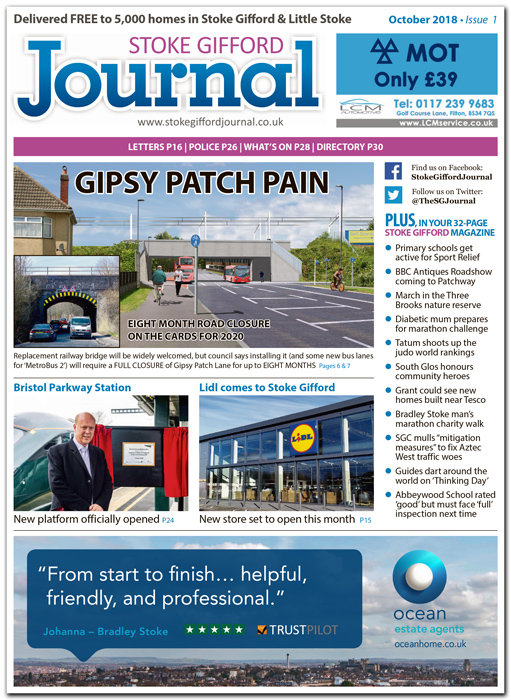 COMING SOON: The Stoke Gifford Journal community news magazine will be delivered MONTHLY* to 5,000 homes in Stoke Gifford (postcode BS34), a neighbourhood within the northern fringe of Bristol.
Launch date: October 2018
* Eleven issues per year; no magazine published in August.
A further 200 copies of the magazine will be placed at public locations across the area,  including community centres, schools, doctors' surgeries, dental surgeries, pubs and takeaways.
The magazine is printed in full-colour on high quality uncoated paper in quarterfold page format (200mm W x 270mm H), which is 73% larger (by area) than DIN A5.
Monthly print run: 5,200 copies
Map showing the distribution area of the Stoke Gifford Journal magazine (along with that of its sister publication the Bradley Stoke Journal magazine): http://bit.ly/nbp-magazine-areas
Leaflet delivery: We can insert your leaflet inside the magazine
Above: Promotional leaflet (click to enlarge), or view as PDF [Dropbox].
Get your business noticed!
Interested in advertising? Call our sales team now on 01454 300 400.
We are also keen to hear from local companies who have newsworthy stories for our business pages.
Send us your news!
Got a story for our next edition? Contact our newsdesk.
To ensure we can reproduce photographs at a good size and in the highest possible quality, please send all images in the highest available resolution (i.e. as they came out of the camera), uncropped and unedited. Please provide a caption for each photo.
If you have large number of files to send, or the photo files exceed 15MB in total, please split them across several emails or use a cloud transfer service such as wetransfer.com (the 'basic' service is fine; no need to sign up for 'plus' service).
Have your say!
Contribute to our Letters page. Contact us via the newsdesk.
Next issue
Our October 2018 issue will be delivered between 5th October and 7th October.
The deadlines for our October 2018 issue are:
Advertising artwork: Friday 21st September
Editorial copy: Monday 24th September
Promotional poster
Please let us know if you would be willing to display our poster.