Posted on Wednesday 20th November 2019 at 9:44 pm by SH (Editor)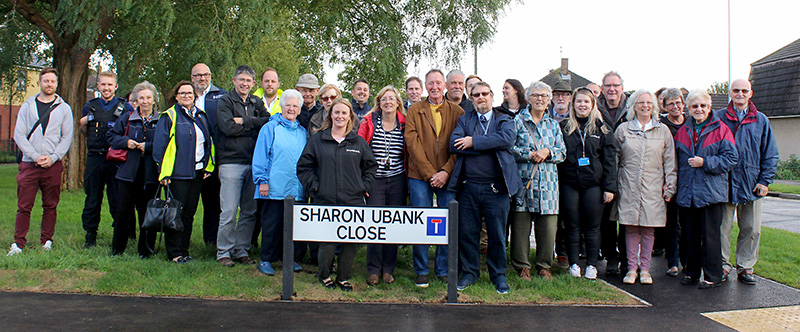 A new housing development named after a local historian has been officially opened in Little Stoke.
Housing association Bromford has completed work to its regeneration scheme in Collins Avenue, which has seen ten old properties demolished and replaced with 15 modern, energy-efficient homes. Delivered in partnership with United Living, the project, which began last year, has now been shortlisted for a prestigious Inside Housing development award.
The new road has been named Sharon Ubank Close, after the local historian, who died last year. Sharon was the editor of The Stokes Standard booklets for many years which covered topics on local history, flora and fauna. An active member of Christ the King church in Bradley Stoke, Sharon would visit local schools to take part in assemblies and loved reading stories to the children. She also wrote books about the history of the local area and had finished her final book, 'Saxonpath', just before she died in July 2018. It was published online by her family to coincide with the opening of the road.
Many of Sharon's family and close friends joined staff from Bromford, United Living, South Gloucestershire Council and local residents to celebrate the official opening of the road on Friday 27th September.
Speaking at the opening of the road, her brother, Andy Stafford, said:
"We are so honoured to have the road named after Sharon; it's quite hard to put into words what this means for us. To see something like having Sharon's name on a street sign, it's quite amazing to see her remembered in this way. She did an awful lot for the local community, especially anything to do with the environment."

"It's very unusual to have the full name on a street, but it means people can look her up and find out about her. I think she would be pleased to have a road named after her but may have wondered what all the fuss was about."
More: Sharon's book 'Saxonpath' is available for free download »
Share this article:
Discussion is open - be the first to comment - click here to respond.