Posted on Sunday 11th March 2018 at 1:24 pm by SH (Editor)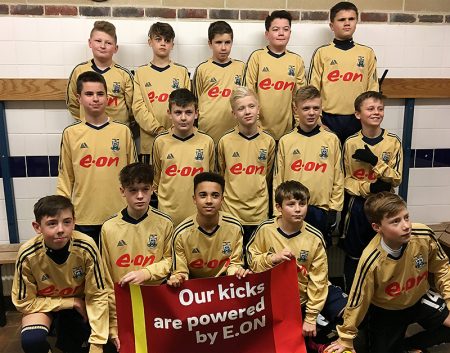 Stoke Lane Lions are dressed to impress after winning a full team kit through E.ON's Power Kicks competition. The Little Stoke-based football team of under-13-year-olds are now proudly wearing their new team kit for their matches played in Division Two of the Avon Youth League.
Jayne Coward-Worrall, whose son Billy plays for the team, entered the competition on behalf of the boys. Jayne's husband Steve started the team up and is now its FA licensed coach, while Jayne acts as the team's treasurer.
Jayne said:
"Stoke Lane Lions is a friendly club, as well as being recognised as FA Charter Standard. We put the emphasis on developing the football and social skills of the players, in a fun, supportive and nurturing environment. Our aim is to encourage these youngsters' passion for the beautiful game without the pressure of a must-win culture."

"The Lions are having a decent season, playing well together as a team and enjoying their matches. They've progressed from the Hanham Minor League to play in Division Two of the Avon Youth League and reached the semi-final of the league cup. With their new kits now, they're excited about the rest of the season."
Michael Lewis, chief executive of E.ON, said:
"I hope this new kit brings Stoke Lane Lions luck in their remaining matches this season!"

"We love running initiatives like this because just as we're helping our customers in the way they need it most – helping them to only use the energy they need, when they need it, we try to work in a similar way in our communities, providing the support to local groups that they tell us they need."
Share this article:
Discussion is open - be the first to comment - click here to respond.