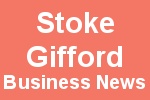 A Stoke Gifford engineering company is hoping to benefit from a new Government initiative that aims to encourage investment in marine renewable energy.
Marine Current Turbines (MCT), based at The Green, is recognised as a "world leading" technology developer in the prospectus for the UK's first Marine Energy Park, launched yesterday in Bristol by Climate Change Minister Greg Barker.
The South West Marine Energy Park will stretch from Bristol through to Cornwall and as far as the Isles of Scilly. It will create a collaborative partnership in the region between national and local government, Local Enterprise Partnerships, the Universities of Plymouth and Exeter and industry – including the Wave Hub in Cornwall. The aim of the partnership will be to speed up the progress of marine power development.
MCT took advantage of the interest in yesterday's announcement to launch investment prospectuses for its eight megawatt (MW) Kyle Rhea project in Scotland and its 10 MW Anglesey Skerries project in Wales.
The projects will use MCT's SeaGen tidal energy system, which works in principle much like an "underwater windmill" with the rotors driven by the power of the tidal currents rather than the wind.
Mr Barker said:
"We want the marine energy sector to succeed, so I'm delighted to see that MCT is progressing its SeaGen technology. We intend that the Renewables Obligation should support early commercial wave and tidal energy projects such as Kyle Rhea and the Skerries, this is why we are proposing to more than double the support to marine energy projects up to 30MW."

"This should help companies secure the financing for projects and accelerate the growth of the sector. Marine power has huge potential in the UK not just in contributing to a greener electricity supply and cutting emissions, but in supporting thousands of jobs in a sector worth a possible £15bn to the economy to 2050."

"The UK is already a world leader in wave and tidal power, so we should capitalise on this leadership to make marine power a real contender in the future energy market. I wish MCT every success."
MCT's Chief Executive Officer, Dr Andrew Tyler, said:
"We share the Department of Energy and Climate Change's (DECC's) determination in wishing to build a strong and vibrant tidal and wave energy industry in this country but we can only do this if commercial schemes such as Kyle Rhea and the Skerries attract the necessary investment."

"We have proved the performance and reliability of our SeaGen technology and we continue to invest time and money to improve SeaGen's operation. Coupled with the backing of Siemens Energy, we are confident that there will be strong investment interest in our two projects."

"DECC's proposed policy to offer five Renewable Obligation Certificates (ROCs) to investors is hugely important and we are sure will give the necessary spur to the investment community."