Abbeywood Community School has registered an increase of almost 20% in the number of students achieving 5 A*-C grades at GCSE including English and Maths in the last two years with 60% of students hitting or exceeding this important benchmark this week (up from 41% in 2011 and 47% in 2012).
The school also reports an increase in the number of top GCSE grades achieved.
Executive headteacher Dave Baker said:
"This is a remarkable turnaround for Abbeywood and validates the approach we have taken to ensure that there is a relentless focus on teaching and learning and a positive ethos in school."

"These results confirm the findings from recent Ofsted monitoring visits which identified good progress."

"Students deserve praise for the way in which they have applied themselves during a period of transition in the school in order to achieve these results. They have been given strong support and guidance by Judith Mee, Associate Headteacher, and her staff team."
Associate headteacher Judith Mee said:
"These results show a significant improvement on last year and are a reflection of the tremendous efforts of students and staff with support from parents and governors. They are further evidence of the fantastic progress made since the school was placed in 'special measures' in December 2011. I couldn't be more proud."
The school says there were some "remarkable" individual performances, including some students who could barely speak English when they started their GCSEs.
The highest performers were as follows:
Nivedita Prasad 11 x A*, 1 x Distinction
Hope Falconer 2 x A*, 4 x A, 2 Distinction*, 1 x Distinction
Zuzanna Calkosz 4 x A*, 4 x A, 1 x Distinction*
Kaya Baber 6 x A* and 3 x A
Paul George 1 x A*, 4 x A, 2 x Distinction*
Adrian Swilonek 8 x A
Hiten Barot 2 x A*, 5 x A
Photo (L-R): GCSE students Emily Johnston-Stuart, Freya Restall and Nivedita Prasad with Judith Mee (Associate Headteacher).
In last week's A-level results, Abbeywood made further progress to consolidate last year's status as one of the top two post-16 centres in South Gloucestershire, based on average point score per entry, with an increase to 216 points per entry (213 last year). Average points per student has been maintained as a strength (728 compared with 733 last year) and once again all students passed in every subject and 52% of all grades were A*-B.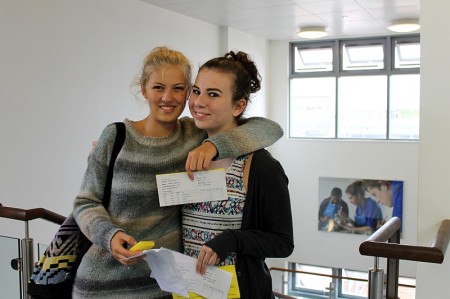 Mr Baker described the A-level results "a huge achievement in a relatively small post-16 centre" (46 students in Year 13).
Outstanding individual achievements highlighted by the school are:
A2 examination results
Anna Knowles-Smith A*AA
Emily Stephens A*AA
Marta Benedek AAA
Matthew Barrett A*AB
Nokuthaba Moyo AAB
Alec Gear A*AB
Francesca Long AAB
Maria Patsia AAB
Jan Pataj D*D*D
AS examination results
George Harrison AAB
James Hampson ABBB
Laura Barnett ABB
Scott Cousins ABB
Bradley Mead ABB
Nadia Restall ABB
Photo (L-R): A-level students Marta Benedek and Francesca Long.
Related link: Schools & Colleges in Stoke Gifford (The Journal)