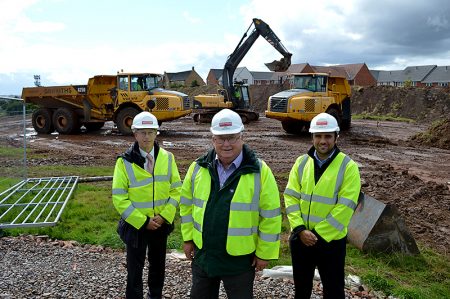 Construction work on the Stoke Gifford By-Pass, which forms part of the North Fringe to Hengrove MetroBus route and will provide a new link for general traffic between Bradley Stoke and the A4174 (Avon Ring Road), is now under way at Parkway North.
The Stoke Gifford Transport Link (as the by-pass is officially known) is a single carriageway highway which will provide a link between the Parkway North Roundabout, Stoke Gifford and the Ring Road, emerging along what is currently the access road into the Highbrook Park housing development.
It will be around 1.6km in length, with a dedicated bus lane and a foot/cycle way on its western side. The link will cross the railway line and the Ham Brook via two new bridges being constructed for the project.
The new road will also provide access to the proposed East of Harry Stoke New Neighbourhood, where it is foreseen that 2,000 new homes will be constructed by 2027.
Cllr Brian Allinson, chair of the West of England Joint Transport Board, and also chair of South Gloucestershire Council's (SGC's) Planning, Transportation and Strategic Environment Committee, said:
"MetroBus is set to provide a new public transport link across the area, from Hengrove in south Bristol, direct through to UWE in the north. This section, the Stoke Gifford Transport Link, extends the services thorough to Parkway Station and on to Cribbs Causeway and will help ease traffic congestion by providing another railway line crossing south from Stoke Gifford."

"MetroBus has been a long time in the planning and development. It's tremendous to see the actual on the ground work starting, and we are all looking forward to riding on the first buses."
Alun Griffiths (Contractors) Ltd will be keeping local residents informed on the progress of the works and any possible diversions that might be needed. The website www.metrobusbuild.info is updated regularly with information on the build across the whole of the 50km network.
Hambrook Lane will be closed for an estimated 38 weeks during the construction of the by-pass.
Photo: By-pass construction under way at Parkway North (l-r): Richard Gillingham (SGC senior responsible officer), Cllr Brian Allinson (SGC) and Simon Dunn (area project manager, Alun Griffiths Ltd).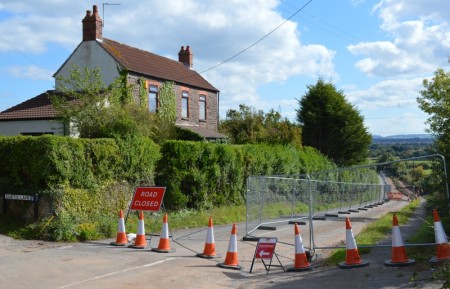 Photo: Closure of Hambrook Lane, near junction with Curtis Lane.
This article originally appeared in the September 2015 edition of the Bradley Stoke Journal news magazine, delivered FREE, EVERY MONTH, to 9,500 homes in Bradley Stoke, Little Stoke and Stoke Lodge. Phone 01454 300 400 to enquire about advertising or leaflet insertion.