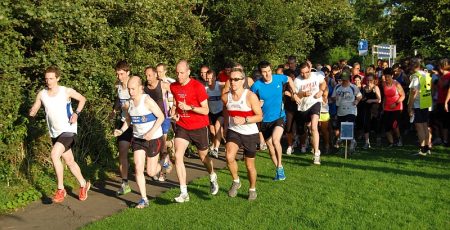 The future of a hugely popular, free weekly running event held in a Little Stoke Park for the past three years could be under threat after the local council said it planned to levy a charge of £1 per runner to cover ongoing maintenance costs of the park.
One of hundreds of similar events that take place around the country at 9am every Saturday morning, Little Stoke parkrun is a free-to-enter timed 5k run that is open to everyone and designed to be safe and easy to take part in.
The Little Stoke event began in November 2012, with support from South Gloucestershire Council, and has seen its number of participants grow from fewer than a hundred per week during its first six months to an average of 243 per week in October 2015.
The increasing numbers have put a strain on car parking at the Little Stoke Lane venue, which the organisers have attempted to solve by encouraging runners to walk, jog or cycle to the venue. Additional car parking has been made available at Little Stoke Baptist Church and car sharing is encouraged.
The event is organised on an entirely voluntary basis, with a core team of helpers supplemented by participants who, from time to time, "give up" their run in order to help.
After a unanimous decision to levy a charge was made by Stoke Gifford Parish Council's Finance Committee on 8th September, representatives of parkrun were invited to attend a meeting of Full Council on 13th October, where the matter was thrown open for debate.
Chair of council Ernie Brown told the meeting that the park had significant running costs, including maintenance of the car park and perimeter path (both of these are used by parkrun participants), and, in these times of austerity, needed to be "run as a business", adding "nothing is free in this day and age".
Geoff Keogh, director at the nearby Ashton Court parkrun and a local parkrun ambassador, explained to the meeting that it is a founding principle of the parkrun organisation that events should be inclusive and have no barriers to participation. This, he emphasised, was "non-negotiable" and ruled out any compulsory charge being made on participants and any handling of money by parkrun volunteers.
Mr Keogh and other parkrun supporters who spoke at the meeting said they believed parkrun's "added value", through a range of positive personal and community impacts, represented a considerable benefit to local people.
Possible revenue raising ideas discussed at the meeting included having a profit-making refreshment stall at parkrun events and asking car park users for a voluntary donation. Applying for a grant towards maintenance of the park was also suggested, but it was stated that local councils are not permitted to apply for many types of grants, so councillors asked if parkrun might consider this instead.
During further discussion, Cllr Brian Allinson said he regarded parkrun as an asset to the community and didn't want it to leave, but added that he had "a responsibility to all citizens of the parish". His proposal to delay the imposition of a charge for six months, to allow time for other revenue raising avenues to be explored, was agreed by a majority vote.
This article originally appeared in the November 2015 edition of the Bradley Stoke Journal news magazine, delivered FREE, EVERY MONTH, to 9,500 homes in Bradley Stoke, Little Stoke and Stoke Lodge. Phone 01454 300 400 to enquire about advertising or leaflet insertion.