Posted on Monday 7th December 2015 at 8:32 am by SH (Editor)
A consultation on preliminary designs for the Cribbs Patchway MetroBus Extension (CPME) has been launched by South Gloucestershire Council.
The CPME is an extension of the North Fringe to Hengrove Package MetroBus route which, once complete, will connect to other MetroBus routes which are currently being built, including the South Bristol Link and Ashton Vale to Temple Meads.
The council is proposing that the CPME runs between Bristol Parkway Station and The Mall bus station, via Hatchet Road, Gipsy Patch Lane, through the former Rolls-Royce East Works site, along North Way, under the A38 via the existing underpass at the Combination Ground junction, and through the former Filton Airfield site (earmarked for redevelopment as part of the Cribbs Patchway New Neighbourhood).
A significant element of the CPME project is the replacement of the existing rail bridge at Gipsy Patch Lane. An SGC committee has already approved development of the replacement bridge, which will have a wider span and greater headroom, and provide one general traffic lane and one bus lane in each direction plus shared use paths for cyclists and pedestrians on both sides of the carriageway. The new bridge will be designed and constructed by Network Rail and is not included in the consultation.
Within the parish of Stoke Gifford, new bus lanes are proposed eastbound along Gipsy Patch Lane, from the railway bridge to the start of the dual carriageway on the approach to the Hatchet Road/Winterbourne Road roundabout, and south from this roundabout as far as the Sandringham Road/Ratcliffe Drive roundabout.
No new bus lanes are proposed along Hatchet Road or Gipsy Patch Lane in the opposite direction (travelling from Parkway to The Mall), except for a stretch that begins shortly before the railway bridge on Gipsy Patch Lane, nor in either direction along the section of Hatchet Road near the Co-op store (former Parkway Tavern).
The proposals require a strip of land to be taken from Meade Park (resulting in the loss of some trees), the removal of hedgerows on both sides of Hatchet Road south of Meade Park and the narrowing of grass verges and the removal of some trees and hedgerows on Gipsy Patch Lane.
Timescales mentioned in the consultation document foresee planning applications for some sections of the route being submitted in summer 2016, construction starting in 2018 and services operating from 2019.
An accompanying Frequently Asked Questions document acknowledges that there will be "some temporary disruption" during construction of the CPME, but states that work would not start until after the currently under-construction Stoke Gifford Transport Link (known locally as the Stoke Gifford By-Pass) opens in spring 2017.
Consultation material summarising the CPME proposals is available at www.southglos.gov.uk/CPMEconsult
The consultation includes information on the proposed bus priority measures for Hatchet Road, Gipsy Patch Lane, North Way and the San Andreas Roundabout near The Mall.
Cllr Brian Allinson, Chair of Planning, Transportation and Strategic Environment Committee, said:
"We are working with other local councils in the West of England area to improve public transport for the benefit of people who live and work in the region. The Cribbs Patchway MetroBus Extension will help to reduce congestion on our roads and improve connectivity for our existing and future communities, thanks to a network of express bus services which will provide fast and reliable journey times."
During the consultation period, a series of public exhibitions are being held at local venues to provide everyone with a chance to view the consultation material and ask any questions. Exhibitions take place at the following times and locations:
Monday 7th December, 1.30pm to 5.30pm, Little Stoke Community Hall, Little Stoke Lane, Little Stoke BS34 6HR
Wednesday 16th December, 4pm to 8pm, Poplar Room, Stoke Gifford Trust Ground, North Road, Stoke Gifford BS34 8PE
All comments on the proposals must be received by the closing date of Friday 15th January 2016. You can have your say using response forms available on the consultation webpage, by emailing transport.policy@southglos.gov.uk or by writing to FREEPOST Plus RTCT-JXLE-EET, South Gloucestershire Council, Strategic Transport Policy Team, MetroBusExtension consultation, Civic Centre, High Street, Kingswood, Bristol BS15 9TR.
Alternatively, if you can't make the exhibition dates you can also view the consultation materials at Bradley Stoke, Filton and Patchway libraries and the council's One Stop Shop in Patchway. Visit www.southglos.gov.uk/libraries or www.southglos.gov.uk/ buildings/patchway-one-stop-shop for opening times.
The council says it will consider all comments received before the final designs are agreed and will respond to each issue raised in a consultation report "to be published in 2016".
Further background information about the CPME and other MetroBus routes is available at www.travelwest.info/metrobus/extension and www.travelwest.info/metrobus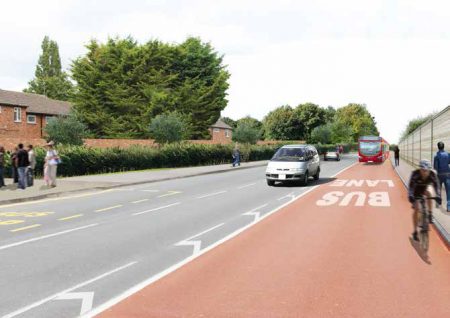 Images (from top): 1 Overview of the proposed CPME route. 2 Indicative artist's impression of the proposals on Hatchet Road (looking north). 3 Indicative artist's impression of proposals on Gipsy Patch Lane (looking east). 4 Indicative artist's impression of the new railway bridge on Gipsy Patch Lane (looking west).
This article originally appeared in the December 2015 edition of the Bradley Stoke Journal news magazine, delivered FREE, EVERY MONTH, to 9,500 homes in Bradley Stoke, Little Stoke and Stoke Lodge. Phone 01454 300 400 to enquire about advertising or leaflet insertion.
Share this article:
Tags: Bristol Parkway, Cribbs Patchway MetroBus Extension, Cribbs/Patchway New Neighbourhood, MetroBus