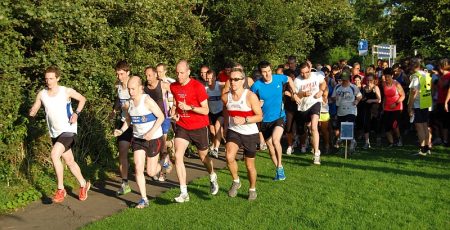 More than 7,000 people have signed an online petition to persuade Stoke Gifford Parish Council to allow the hugely popular Little Stoke parkrun to continue at Little Stoke Park after its future was threatened by a council decision to levy a charge of £1 per runner.
One of hundreds of similar events that take place around the country at 9am every Saturday morning, Little Stoke parkrun is a free-to-enter timed 5k run that is open to everyone and designed to be safe and easy to take part in.
Hundreds of participants
The Little Stoke event began in November 2012, with support from South Gloucestershire Council (SGC), and has seen its number of participants grow from fewer than a hundred per week during its first six months to an average of 235 per week in 2015, with some runs attracting in excess of 300.
It is delivered entirely by local volunteers who contribute thousands of hours of their time over the course of a year.
A founding principle of the global parkrun organisation is that events should be inclusive and have no barriers to participation, which local organisers say rules out any compulsory charge being made on participants and any handling of money by parkrun volunteers.
A parish council meeting last October voted to delay the imposition of a charge for six months, to allow time for other revenue raising avenues to be explored, but on 22nd January local parkrun organisers reported in an email to participants that they had been informed that the council had indicated it now planned to make a decision on "whether or not to withdraw permission" for the local adult parkrun at a meeting of Full Council on 9th February.
An online petition was started, which attracted 5,000 signatures in the first 48-hours, and runners were encouraged to write letters to the local media (the Bradley Stoke Journal has so far received 27 emails on the matter, read one here).
Organisers added: "We remain hopeful that the parish council will accept our argument that Little Stoke parkrun imposes little cost and brings substantial benefits to the community, and is deserving of their continued support."
Financial contribution
The Journal understands that the parish council has now moved away from the idea of imposing a £1 per runner charge (which would have yielded £11,000 in 2015) and would instead like parkrun to make a financial contribution to the maintenance of the park by applying to SGC for a Community Grant (usually limited to £3,000 per organisation per year).
A statement released by the parish council following an Extraordinary Meeting held on 26th January reads:
"At the parish council meeting in October 2015, the discussion concerning our continued support for parkrun was deferred for a period of six months, in order for full negotiations to take place. That period has not yet expired and the parish councillors have always indicated their preference for the run to continue."

"The parish council has requested South Gloucestershire Council, who are the land owners, to assist with talks with parkrun on our behalf."

"A decision regarding the future of the parkrun at Little Stoke Park will be made at the Full Council meeting on Tuesday 12th April 2016, 7pm at the Little Stoke Community Hall."
Timeline of the Little Stoke parkrun
3/11/12: Inaugural parkrun attended by 112 runners
21/9/13: First parkrun with more than 200 runners
29/6/14: Inaugural junior parkrun attended by 96 kids
6/6/15: First parkrun with more than 300 runners
8/9/15: Parish council's Finance and General Purposes Committee unanimously agrees that adult parkrunners should pay £1 per adult per run, with effect from 7/11/15
13/10/15: Parish council agrees to delay the imposition of a charge for six months, to allow time for other revenue raising avenues to be explored
22/1/16: parkrun team reports that no progress has been made and parish council has informed it that a decision on withdrawing permission for parkrun will be made at a Full Council meeting on 9/2/16. Online petition to 'Keep Little Stoke parkrun in Little Stoke park' started
24/1/16: Online petition reaches 5,000 signatures
29/1/16: Parish council says it has asked South Gloucestershire Council to assist with talks with parkrun and a decision will now be made at a Full Council meeting on 12/4/16
This article originally appeared in the February 2016 edition of the Bradley Stoke Journal news magazine, delivered FREE, EVERY MONTH, to 9,500 homes in Bradley Stoke, Little Stoke and Stoke Lodge. Phone 01454 300 400 to enquire about advertising or leaflet insertion.
Postscript (9th February): A news item on the Little Stoke parkrun website reports that members of the local parkrun team and parkrun ambassador Geoff Keogh attended the Stoke Gifford Parish Council meeting on 9th February in order to read a statement during the public session. It concludes: "Parkrun was not listed as an agenda item for discussion at this evening's meeting but we understand that a member of the council has been tasked with arranging a meeting between representatives of Stoke Gifford Parish Council and the Little Stoke parkrun core team which we welcome. The decision about the future of Little Stoke parkrun will [now] be made at the Full Council meeting on Tuesday 12th April 2016."