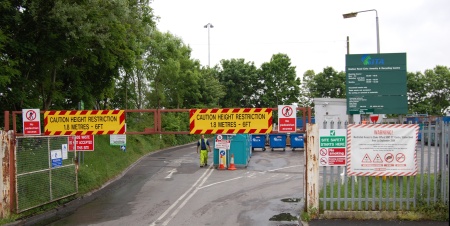 South Gloucestershire residents who want to use local authority Sort It waste disposal and recycling centres, such as the one in Station Road, Little Stoke, must now register their vehicle to access the sites.
A spokesperson for South Gloucestershire Council said:
"You don't need to sign up straight away, just make sure you register at least 24 hours before your next visit. You can sign up at any time of year and you only need to do it once, unless you change your address or vehicle."
Chair of South Gloucestershire Council's Communities Committee Cllr Heather Goddard said:
"We have introduced vehicle registration at our Sort It recycling centres to help reduce the number of people from neighbouring council districts and commercial users from visiting our sites. Residents can sign up at any time and it's very easy to register online, over the phone or at any of South Gloucestershire's One Stop Shops."
There are two types of vehicle registration available:
Standard vehicle registration for vehicles of any size (up to 3.5 tonnes) that have rear and/or side facing windows including cars of any size, campervans, people carriers etc.
Restricted vehicle registration for:
Vans of any size without rear facing windows including minibuses, campervans and cars
4×4s, pick-up trucks or people carriers (MPV) without rear seats and/or windows or with an open back
Flatbed vehicles, box vans, horse boxes with integrated cab and agricultural vehicles up to 3.5 tonnes
A maximum of two vehicles per address can be registered.
Restricted vehicles are limited to 12 visits a year. Access times for large vehicles will continue to apply. The height and trailer restrictions at Stoke Gifford (Little Stoke) Sort It Centre will also remain in place.
On entry to a Sort It site, vehicle registrations will be checked using automatic number plate registration (ANPR) technology and non-registered users will be asked to leave. If a vehicle is restricted to 12 visits a year, the ANPR system will show site staff how many visits that vehicle has remaining.
To register your vehicle, visit www.southglos.gov.uk/sortitreg
You can also sign up over the phone on 01454 868000 or at the council's One Stop Shops.
• The Journal understands that although the registration system went live in early February, the council is implementing a 'soft start' policy and enforcement may not begin for up to three months. In the meantime, staff at the Sort It centres will make drivers of unregistered vehicles aware of the new rules.
This article originally appeared in the March 2016 edition of the Bradley Stoke Journal news magazine, delivered FREE, EVERY MONTH, to 9,500 homes in Bradley Stoke, Little Stoke and Stoke Lodge. Phone 01454 300 400 to enquire about advertising or leaflet insertion.