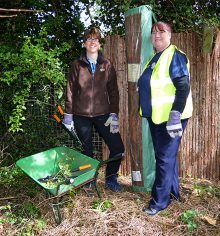 Staff from the Tesco Extra store in Bradley Stoke have been helping a local school maintain and improve an area of woodland that is used for Forest School lessons.
As part of its community outreach programme, the store has provided materials to construct a privacy screen around parts of the woodland within the grounds of Little Stoke Primary School. Store staff have also visited the school on a number of occasions to help install the screening along sections of the school's perimeter fence, helping create a safer environment in which children can wander off under the trees, pursuing whatever makes them curious.
Jenny Ratcliffe, Forest School leader at the school, said:
"We greatly value the support that Tesco has given us in establishing and maintaining our woodland area that we use for Forest School. Every child in the school benefits from the improvements that have been made and we would like to say a big 'thank you' to Dawn Richards and her team of Tesco staff, who not only donated fencing, but have also come and done some manual labour for us!"
Forest School has been taking place at Little Stoke Primary for the past two years. It is now deeply embedded in school life and each child goes out for a morning or afternoon session for two terms each year. Since starting the project, the school has worked hard to develop the site, encourage wildlife and sustain its use throughout the year.
Little Stoke Primary School is currently applying for a Forest School accreditation, which would recognise the highly effective quality of the sessions that take place for pupils every week.
Parents provide great support for the school in its child-centred approach to Forest School and recognise that these sessions compliment other activities that take place in school throughout the week.
"Our pupils love to go outside, whatever the weather, and learn new things about nature, themselves and their peers," says Jenny.
The school has recently started new Wildhearts Forest School sessions on the site. These sessions on Monday mornings are for pre-school children. Under Jenny's guidance, toddlers can explore the forest site, learn more about plants and animals as well as develop their risk taking skills. They can saw, drill, cook on fire, and, of course, generally have fun outside. This site is ideal as it is enclosed, quite established and has the toilet facilities just across the playground! For more information, contact Jenny Ratcliffe via the school office, 01454 866522.
Photos: 1 Tesco community champion Dawn Richards (right) helps Jenny Ratcliffe erect screening around part of the Forest School site. 2 A group of children enjoy a Forest School session with Jenny Ratcliffe.
This article originally appeared in the May 2017 issue of the Bradley Stoke Journal news magazine (on page 30). The magazine is delivered FREE, EVERY MONTH, to 9,500 homes in Bradley Stoke, Little Stoke and Stoke Lodge. Phone 01454 300 400 to enquire about advertising or leaflet insertion.