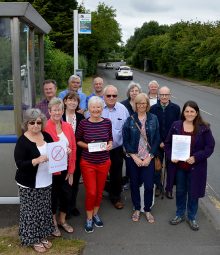 Campaigners opposed to the construction of a new bus lane on Hatchet Road in Stoke Gifford will have to wait a further month to learn the outcome of a review they secured through a 3,000+ signature petition.
South Gloucestershire Council (SGC) previously said it anticipated presenting the results of a review into route options for the Cribbs Patchway MetroBus Extension (CPME) scheme at a meeting of its Cabinet on 6th November, but when the topic was entered into the Cabinet's published work plan at the start of October, the 'decision due' date was given as 4th December.
Asked why the decision had been put back from the originally anticipated date, a South Gloucestershire Council spokesperson said:
"We found we needed to do further work resulting in us having to revise the meeting date."
On the subject of the leaked report which showed that SGC was considering the option of closing the Parkway railway bridge to general traffic as an alternative to constructing a bus lane on Hatchet Road, local resident Paul Tanner, who leads the Hatchet Road Action Group, says he has "been informed from a reliable source that this is no longer an option for the forthcoming Cabinet meeting to consider".
• Read more at 'Hatchet Road 2016' on Facebook.
Photo: Members of the Action Group at a bus stop on Hatchet Road.
This article originally appeared in the November 2017 issue of the Bradley Stoke Journal news magazine (on page 17). The magazine is delivered FREE, EVERY MONTH, to 9,500 homes in Bradley Stoke, Little Stoke and Stoke Lodge. Phone 01454 300 400 to enquire about advertising or leaflet insertion.